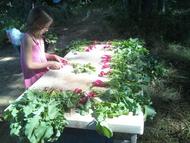 Just another friendly reminder :) to those of you who haven't decided about a share this year. We'll open shares up to the public on Feb 15th, that's in just 11 days, and our farmer has a limited number of
openings. If you have already decided not to return and don't want to receive emails from me, just let me know and I'll take you off the list.

I imagine the changes have been a bit confusing so let me try to de-confuse. As you all know, Glenn's on permanent disability due to his back injury so he's limited as to what he can do. Last summer we arrived at the decision that he / we couldn't continue carrying the level of CSA load we'd been doing and that trying to do it all was hurting the whole operation. So we decided to cut back a bit, concentrate on the things Glenn can actually manage, and try to find help in other areas. Jim Daniel, a local guy from Lewisport, KY and owner of 5 Gallon Farm (you can find him on Facebook), has been working with us since last Fall in taking over the garden operation but I'm continuing to manage the paperwork, website, and so forth. The vegetable crops will continue to be grown here on the same farm and we will be involved, but Jim will be the main guy. He'll grow many of the same crops and select some of his own varieties, too. He'll also be
using sustainable practices, just like we've done.

Jim is planning on handling the Owensboro pickup and is looking into coordinating it with the Farmers Market there, a benefit to everyone involved. Glenn and I will continue to be the main faces on the Indiana side for pick-up. We have put out some feelers around coordinating a pick-up with the Newburgh Farmer's Market, but they're going through some leadership changes and I'm not sure whether that will end up working out. We should know well before shares actually begin, though.

We're hoping for a better year, climate wise, than last - we're still amazed that we were able to scrape by all season through that drought (the worst one in a LONG time). We're continuing to work on ways to reduce the impact of a bad weather year but as with everything else on the farm, it will take a while.


On POULTRY, one of the reason Glenn and I chose to step back from as much gardening is to concentrate on our animals. Those of you who have been to the farm know the state of the buildings and fencing and we're hoping to make some real headway in keeping the poultry alive long enough to eat (add to the issues a growing population of bobcats) and keep them from laying their eggs in the woods! We have a small herd of new Delaware chicks growing (a new breed for us but a nice dual purpose heritage breed that meets our standards) and we'll be adding to them. We also have a nice flock of Cayuga ducklings going. If you like quail, let me know. We have a number ready to butcher.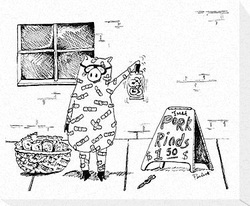 Have you noticed the relatively on-going pork sale? We're in the process of drastically reducing our hog herd and our freezers only hold so much. Check out the current specials on the website.

One of my New Year's Resolutions is to get something posted on the blog at least once a month. So far I've barely made it, but the year is young ;) Hold me to it - if you visit the website and it's boring because it hasn't changed since the last time you were there, hold my feet to the fire! Ask a question or share a story - our members in Ohio really got into one-upping each other with getting a question of the month posted, or sharing creative recipes, or telling stories about their visit to the farm or encounter with some new (for them) veggie. If you've got something great to say, send it along and give me permission to post it. If you have something rotten to say, send it along, too. We do appreciate the feedback.

In the meantime, stay warm and dream of fresh lettuce and home-grown tomatoes!