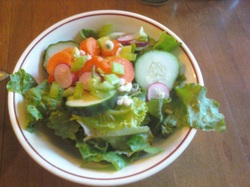 I'm starting to get emails asking about when garden share season will start so it's high-time I give an update. This is also a great opportunity to talk about some of the aspects of farming in general and eating locally in particular.


Last year we had an amazingly early spring. Remember? We had some seeds planted in February and by the middle of May were really starting to see lots of crops coming along strong and we were able to start shares three weeks earlier than expected. Then, in early July, the rain stopped and it was all we could do to scrape together enough items to provide for all of our shares. By late September we were very thankful for that early start because there just wasn't anything left. We lost entire crops to the drought.


That is one of those shared risks our "member terms and conditions" mentions. Juxtapose 2012 with 2011 and you may recall the flooding we had in the spring and then the dry late-summer. Farmers of all shapes and sizes are subject to the vagaries of the weather. We can control many things, but not the weather.


Now for this year. It has been a fairly calm spring, no severe storms, but we've had frequent rain. Thankfully, we are well out of the severe drought. The downside is that the ground has to be dry enough to plant. I won't bore you with the details of what's dry enough, but suffice it to say that it's been a long slow process getting plants in the ground this year, even with the addition of raised beds and containers.


All that to answer the question: "When will garden shares start?" I have an answer: I don't know. There are still too many variables. I will tell you, though, that we hope to start garden shares around the beginning of June, mid-June at the latest. In the meantime, let me share with you what we do have in the ground, just so you know what you have to look forward to at some point during the next few months.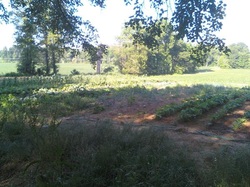 2012 Garden (it's raining as I post)
If you'll visit our
crops pages
, you'll find descriptions of most of the things we grow and when they might be expected to turn up in your share. They are arranged both by type and alphabetically at this point.
All of the greens listed (both leafy greens and cabbage types) are in the ground and coming along except cauliflower. Leafy greens particularly (lettuce, kale, spinach, beet and turnip greens, Swiss chard, mustard greens, and more) are cool season crops so can be expected to be a heavy part of the share in the spring/early summer and in the fall. Greens from the cabbage family (cabbage, broccoli, Brussels sprouts, and cauliflower) are growing but they take longer to "make" than the leafy greens so expect those a bit later. If you're not sure what to do with them, check out our
recipe pages
and our
preservation pages
.
There are several species of vining crops, some earlier, some later crops. We are starting to see a few blossoms on some of the summer squashes (yellow squash, zucchini, patty-pan) so we're hopeful they'll make a nice showing to keep all those leafy greens company in the early shares. Melons (cantaloupe and watermelon varieties) are in the ground but it will be quite some time before you see them. They are mid-late summer crops. Winter squashes aren't planted yet - they generally go in the ground some time in June to make squash and pumpkins for fall and winter shares.
Like vining crops, root crops appear throughout the season. We should see some green onions soon, as well as radishes. Then the beets and carrots should appear sometime in early-mid summer, followed by the kohlrabi, turnips, onions, potatoes, and so forth toward the end of the summer and into the fall. If the potatoes do well enough (they hate wet ground) we may be able to pull some new potatoes in a few weeks.
The last early season crop we have coming on are peas, both garden and snow. We also have planted green beans, both bush and pole, and yellow wax beans, along with sweet corn, eggplant, okra, peppers (hot, sweet, and bell), and tomatoes. Those are all mid-late summer crops.
HERBS
Some of our herbs are doing nicely - so far we have strong stands of sage and oregano but we're hoping some of the others will catch up sooner or later. I'll speak to fruit below.
If you didn't see something you've been looking forward to, drop me a line. It's entirely possible I've simply overlooked it.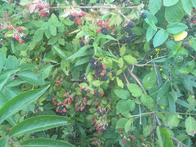 Yumminess to look forward to
FRUIT

As you know, Jim planted many strawberry plants early in the spring. They're coming along, but the nature of strawberries is that they don't produce much the first year. So next year we have yumminess to look forward to. We have also made great strides in re-creating an orchard here on the farm and have planted a variety of apple, cherry, peach, pear, and other fruit trees. However, fruit trees can take 4 or 5 years before they start to produce. Berries, on the other hand, we should have some of those for you, if the weather is nice to us. I can see mulberries starting to appear on the mulberry trees and, if we're lucky, you may get some in one of the first shares. They are an incredibly fragile fruit, though, which is why you don't ever see them in the store. The blackberry bushes are also loaded with blossoms.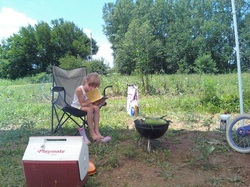 Ohio Pick-Up 2010
SHARE PICK-UP

The Owensboro pick-up this year will be at the Owensboro Farmers Market at Community Christian Church on Saturday mornings. Farm pick-up will be, well, here at the farm. We don't as yet have a set day or time so if you have input on that, please drop a line.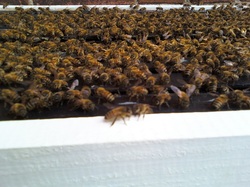 Honey Makers at work
We've had a presence at the Farmers Market every Saturday for the past few weeks with honey and eggs. Sadly, Kentucky regulations prohibit our selling anything else there since it comes from Indiana. However, if you need jelly or would like to pre-order pork, poultry, beef, or whatever else we may have, give a call or drop a line. Or show up at the Farmers Market and grab a brochure or ask questions.
Speaking of meat, we have a couple specials going so don't miss those. I try to keep them updated on the
Front Porch
(AKA home page) but if you have questions, just give a holler.