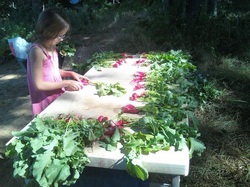 Here are questions we've been asked more than once! If yours isn't listed, just drop us a line.
Are you organic?
While we use organic practices, we are not certified organic. There are a number of conventional farms upwind and/or up-watershed and we "benefit" from their chemicals from time to time. However, we use organic fertilizer, pesticides and herbicides as much as we can and keep our produce and products as chemical free as we possibly can. In the event something in your share has been chemically treated, we will always tell you.
How much is in a weekly share?
We expect to provide 8-12 varieties of fresh vegetables and/or fruits each week - enough to provide side dishes for a family of four (Family share) or couple (Couple share) for one week. Each week will be different but everyone gets similar items.
How much is my weekly share worth?
We don't calculate share value per week. In the nature of a CSA, some weeks your share will contain items of greater worth than others. Over the course of the season we believe you'll be satisfied that you received more than your money's worth. (We had a shareholder one year who carefully compared what was in his share with the same produce at the local Kroger organic section and he said that over the course of the season, we came out way ahead. But that's just what we were told - we have not done that research ourselves.)
Will you hire me to work on your farm?
See here
.
What if I don't want something? Do I have to take it?
The short answer is, no, you don't have to take it. If you receive something in your share that you know you won't use, for whatever reason, please don't just throw it away.
However, if it's something you've never had, try it. If you don't know what to do with it or how to prepare it, ask. If you won't eat it, please pass it on to someone else. If you absolutely know you won't use something and don't know anyone who will, we'd rather you not take something than have it get tossed out. We've seen shareholders trade items ("I'll take your okra if you'll take my tomatoes"), and from time to time we have limited options.
We generally donate what doesn't get picked up. (Admittedly, sometimes we eat it or donate it to the critters!)
What if I want more of something?
Whether you're having a party, preserving, or just like something alot, you may want more. Just call ahead and let us know. In fact, if you arrange to come out and harvest it yourself (subject to approval) you may get a discount.
If you know you'll want thus-and-so pounds or this or bushels of that, let us know early in the season. We do plant some crops with preservation in mind.
I don't see my favorite vegetable on your crop list. Will you grow it?
We may - it depends on whether or not it will grow in our zone, how easy it is to get seeds (how much they cost, etc), and the difficulty in growing it. Chances are good that if we can get the seed, we'll at least give it a shot. You are welcome to provide seeds for us. However, realize that whatever we grow is for all shareholders, not just for a particular person.