About Eggs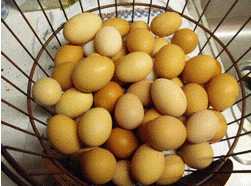 We have to include this, really. I'll try to keep it entertaining. Please also see our
disclaimer
.
We get asked all the time things like "how do I know if my eggs are fresh?" "what's the difference between brown and white eggs?" "will I find a baby chick in my egg?" All are valid questions, so we decided to add this page! (By the way, these are our "from the farm" answers - please don't quote us as official experts!)
---
Are brown eggs better than white eggs?

Fundamentally, no. All other things being equal, an egg is an egg is an egg, white, brown, tan, blue, speckled, whatever The color of the shell has no bearing whatever on the quality of the egg inside.

The reason brown eggs have been seen as healthier is that the commercial egg factories use breeds of chickens that crank out large eggs quickly - and White Leghorns happen to be the best at that. And White Leghorns lay white eggs (the name comes from the color of the bird, not the color of the egg. Brown Leghorns also lay white eggs.)

So brown eggs, which are usually smaller than White Leghorn eggs, are more of a specialty in the marketplace. Until recently when some large egg producers have started raising brown egg layers, like the hybrid Golden Comet, to crank out those "ultra-healthy" brown eggs everyone wants. In reality, they're generally raised exactly the same way as the White Leghorns so don't fool yourself.

Many breeds raised on small farms produce eggs of various shades of brown. The quality of the egg comes not from the color of the shell, but from the quality of life of the hen that laid it, what she was fed, and so forth. Small farmers typically allow their laying hens to forage in the grass, eating bugs (can you spell O-m-e-g-a-3?), and living a very healthy and wholesome lifestyle, producing very healthy and wholesome eggs. Hence, brown eggs came to be associated with health.

If you want the wholesomeness of "farm fresh brown eggs", go to a farm where the chickens run around outside in the sunshine.

What About the Yolk?
Yes. The color of the yolk should be an indicator of egg goodness. The oranger the yolk, the better the egg. Normally.

I have to qualify this because ... sigh ... we hear that some CAFO egg farmers are feeding their chickens marigold flowers to make the yolks more orange.

Just thought we'd throw that one out there. Again, if you want good, fresh, healthy eggs, go to the farm.
How fresh is fresh?

Now there's a can of worms. See more at the bottom, but here are a few thoughts based on our personal practice and observation.

1. A hen sits on an egg for 21 days without it going bad. (Although I, personally, wouldn't want to eat an egg that a hen has sat on for 21 days, they are apparently a delicacy in some cultures. We will not sell them to you for the purpose of eating.)

2. People survived (thrived) for centuries eating eggs that came out of a bowl sitting on the kitchen counter or table. We eat eggs all the time that have never been refrigerated. The trick is to actually cook the eggs before you consume them.

3. If you cook the egg thoroughly you're not likely to get sick from it. (Egg related illness seems to come almost entirely from eating eggs that have not been cooked through or at all, including stuff that raw eggs are in, like cookie dough.) COOK YOUR EGGS THOROUGHLY!

4. Prior to cracking the egg open, stick it in a bowl of water. If it floats, don't eat it. Standing on it's end means it's about perfect for hard boiling, by the way. After cracking the egg open, if it smells funky, don't eat it. (Whenever I'm not sure, I crack the egg in a separate bowl, not directly into whatever I'm making. To be honest, I always do that. Even with eggs I just pulled out from under a hen 5 minutes ago.)

TIPS:
Once eggs are refrigerated, they need to remain refrigerated. Owensboro Farmers Market rules say the eggs have to arrive chilled. They need to go into the fridge.

Fresh eggs keep longer than hard boiled eggs, but hard boiling an egg will extend it's life. Another way to say this is that if you take two eggs that were laid today and hard boil one then stick them both in the fridge, the hard boiled one would go bad first. But if you take that non-boiled egg and a week or two down the road boil it, it will last a bit longer.

Successful hard boiled eggs need to be at least a week old. Very fresh eggs won't peel well, no matter what tricks you use. (By the way, the eggs you buy at most grocery stores are often a good week old by the time you take them home. That's being very polite.) The eggs you get from us are seldom as much as a week old.

Will I find a baby chick?

Yes, we have been asked this question, and more than once. The answer is: No. If you have an interest in egg fertility, incubation process, and etc, please let us know. In the meantime, we'll let this single word suffice.

Are Fertilized Eggs More Healthy Than Non-Fertile Eggs?

You'll find people on both sides of the fence on this one. Do we know? No. If they are, the difference is minimal or there would be more hoopla about it. If you really want fertile eggs, our hens are all exposed to at least one rooster but there's no way to know that they're 100% fertile until they start to develop in the incubator.
If you want guaranteed non-fertile eggs, buy the factory eggs at the grocery store. Those hens never see the light of day let alone a rooster.

Another Word on Egg Freshness