About Our Birds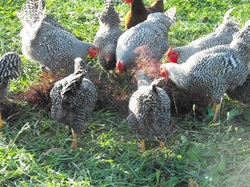 All our animals, including our poultry, are heritage breeds. What that means is that any of our poultry might have been seen in the farmyards of 150 years ago, they can reproduce without human intervention, and they have not been cross-bred since at least the 19th century. They're also pretty.
We have selected our birds from those heritage breeds generally called "heavy meat" or "dual purpose" breeds. They are all breeds recognized by the
American Poultry Association
as real breeds, although not all are of American origin. Many of these heritage breeds have histories going back hundreds of years and were part of the earliest farmsteads in this country. You can hear the history of their development in their names: Plymouth Rock; Rhode Island Red; Narragansett; Cayuga. In some names, you can spot the county in England or the country where their ancestors originated: Dark Cornish, or Java Black.
Please see the drop down menu for breed information.
---