Purchasing Beef
Beef By Cut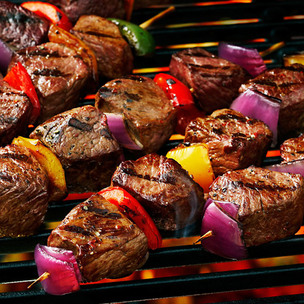 Come to the farm (call ahead) or find us most Saturdays (Apr-Oct, 6:30-10) at the Owensboro Regional Farmers Market and at the Spencer County Farmers Market in Rockport most Wednesdays (Jun-Oct, 2-5).
All the following cuts are available at the farm (when we have it) but we take a limited supply to the markets. If you know what you want, call ahead and we'll pack your order and set it aside. We'll hold until 9 at Owensboro, 4 at Rockport.
Prices at: farm / market
T-Bone Steak: $10 / $12 per lb
Sirloin Steak: $8 / $10 per lb
Rib-eye Steak: $8 / $10 per lb
Round Steak: $7 / $9 per lb
Short Ribs: $5 / $7 per lb
Roasts: $5 / $7 per lb
Stew Meat: $5 / $6 per lb
Ground Beef: $4 / $5 per lb
Organ Meats: $3 / $4 per lb
Soup Bones: $3 / $4 per lb
Ask about current specials.
All prices subject to change.
Subject to availability.
Order Beef
---
Beef Shares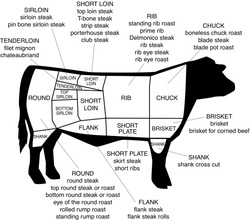 Why get a beef share?
The bottom line for you is that the more you purchase at once, the less you pay per cut. Go in together on your share with family or friends and you'll all benefit.
What is a beef share?
A share is a mix of beef that includes cuts from various sections of the cow. How much and how many depends on the size of the share (you can purchase the whole steer all the way down to an eighth). Because
our beef steers
aren't cookie cutter identical, they range in size when they're ready for butcher, so the precise amount and cuts of meat you get will depend to some extent on the size of the animal.
What can I expect in a share?
A half steer will total approximately 100 lbs. of meat. That should provide 2-3 meals a week for a couple for 6 months. Depending on the animal (because each one is different), you could expect about
4 or 5 round steaks
6-8 roasts
3 or 4 sirloins
7 or 8 T-Bones
7 or 8 ribeyes
around 40 lbs of ground beef
assorted soup bones and other cuts such as liver, heart, tongue, or ox-tail.
Again, it all depends on the animal and how it needs to be cut. Sometimes there are fewer of something and more of something else, but that's a general idea.
To get an idea of space needed, 100 lbs would require a small chest freezer or about 25% of an upright freezer.
A whole steer will be about double the above.
Our quarters are mixed so a quarter would be roughly half the amounts listed for a half steer.
---