About Our Meat Chickens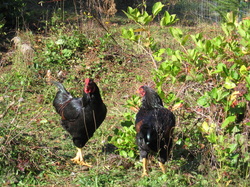 Most of our heritage layers are also reasonably good meat birds however we raise one breed of chicken,
Dark Cornish
(also called Indian Game), exclusively for meat. When you purchase a broiler chicken share, this is probably the breed you'll get. They're much heavier breasted than our laying breeds. The eggs of the Dark Cornish are just like all other chicken eggs and they do occasionally make it into egg shares, however we incubate most of them for meat chickens.
We do occasionally offer our 2-year old laying hens as "soup chickens". They're a bit tough for plain eating, but make excellent soup or chicken salad. We also usually have a lot of excess roosters among our layer breeds. Since only one rooster is necessary, we butcher the rest. The larger ones may make it into shares, especially the
Dominique
,
Rhode Island Red
, and
White Plymouth Rock
.
Most pastured chickens that are raised on organic and natural farms and CSAs are cage-free or pastured Cornish X Cross hybrid chickens. These are the very same chickens you buy at the grocery store but raised in a natural environment rather than in confinement. We
don't
raise Cornish X Cross meat chickens. (You may also wish to see the poultry politics page for more on why.)
We are raising heritage meat chickens, which means that they may look a bit smaller (because they're built differently) and have more dark meat (because they're free to run free and build up muscle tone) than the birds at the grocers. In addition, you'll have to wait longer for our chickens than for poultry shares from farms continuing to raise Cornish X Cross because our chickens grow and develop at a much slower rate and we let them grow to full maturity rather than butchering them at a tender 9 weeks.
So we choose to raise heritage poultry because 1) we are invested in preserving these old breeds and 2) we think they taste a lot better!
---
About Our Laying Hens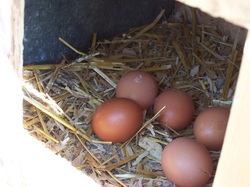 We have a variety of breeds of heritage laying hens and their accompanying roosters including
Rhode Island Red
,
Dominique
,
White Plymouth Rock
, and
Brown Leghorn
. These breeds are all heritage breeds, meaning that they've been around a long, long time and still look and behave much as they did in your grandmother's or great-grandmother's yard.
Because we have so many different breeds and we are invested in maintaining these breeds, in the spring we do keep the roosters and hens of each breed separated so that our flocks remain true. And in the harsh winter when there is little forage we keep them inside for their protection. The rest of the time they are free to intermingle.
In addition to our primary layers, we have a few assorted odds and ends of chickens that have come to roost with us. Many of them are local chickens in need of a home. Others are from unintentional mixed parentage here on the farm.
Our Dominiques, Rhode Island Reds, and White Rocks all produce brown eggs in slightly different shades of light brown. Our Brown Leghorns produce white eggs. (Egg color has to do with the color of their earlobes, not the color of their feathers! For more on egg color and health see the Egg page.)
---