Narragansett Turkeys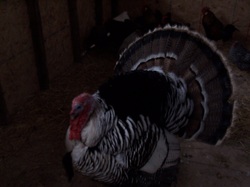 This beautiful bird descends from a cross between the Eastern Wild Turkey and domestic turkeys brought to this country by European colonists. It is named for the Narragansett Bay of Rhode Island. They are a rare, multicolored, medium-sized breed. Their body plumage is primarily black with bands of steel gray. The tail is dull black, regularly penciled with parallel lines of tan, edged with steel gray. They are known for being calmer than most and are good mothers. Standard weights are hens weighing up to 17 lbs. And toms up to 30 lbs.

Like our other meat poultry, our turkeys are free to roam, except during breeding season (so we can find their eggs). We raise them in a system similar to our chickens, out on range with shelters available. We tried keeping them in a fenced area but heritage turkeys can fly and like to roost in trees, on buildings, wherever they can get. While they're considerably more intelligent than their commercial cousins, they still will fly down in the morning on the wrong side of the fence and be confused all day. So we let them go where they will and run the risk of occasionally losing one to predators.

We haven't eaten a commercial turkey in 3 years and can say that these have a firm very flavorful flesh due to their activity and access to yummy bugs and grasses. My first bite of one of our turkeys met with the exclamation, "That's what turkey is supposed to taste like!"


---
Turkey Sizes and Cost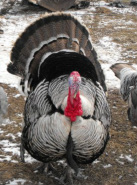 Before you request a specific size turkey, like "18 lbs", please remember that when you order a turkey we cannot guarantee a specific weight. Unlike the mega-farms who raise untold thousands and can offer a consistent range to choose from, we only raise a limited number (generally fewer than 20). Also, because they are raised outdoors they have other factors affecting their growth. So, when you come to pick up your bird we will work with you to get you as close to the size you want, and we think that you'll ultimately be happily matched up with your turkey.

Turkeys will be ready for Fall and Winter holidays. Expect to pay quite a bit more per pound than you paid for your commercial bird last year. Because these birds take twice as long to raise as the white turkeys, even compared to pastured white turkeys, the heritage breeds end up costing quite a bit more.

---