The Story of Mulberry Creek CSA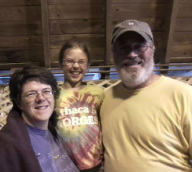 Glenn grew up on a dairy farm right here in Southwest Indiana, in fact just across the road from our current place, and has been growing things his entire life. Our interest in CSA evolved over time. We've always gardened both out of enjoyment and as a way to improve our grocery bill. Over the past several years, we've regularly added to our garden in a concerted interest in healthier eating. It's great knowing where our food originates! With these combined interests, we found ourselves growing more and more produce and varieties every year.

In 2008 we found that we had enough to fill our pantry for the winter and still had lots left over to share. We also found that there was a market among our friends and acquaintances for fresh produce. We'd try to give produce away, they'd insist on paying us for it. Then Gail's brother, who lives in New England where CSAs first started, mentioned one day that we ought to look into CSA. So we did! After learning as much as we could about CSA, we decided to take the next step and move toward an actual plan toward supporting our community as well as ourselves through this shared endeavor.

We were a brand new CSA in 2009 in NW Montgomery County, Ohio, near Dayton. It was a great year and we learned a lot about operating a CSA, marketing the idea in general and our CSA in particular, and growing items we hadn't grown. We also got to meet some great folks!

In 2010 our shareholders doubled - some of our former shareholders came back, some switched to other CSAs that fit them better, and a few decided that CSA wasn't for them, and we got to know a whole bunch of new folks. But then personal issues forced us to make the very difficult choice (for us and many of our shareholders) to move the farm, lock, stock, barrel, pigs, and poultry, back to Glenn's family farm where we are now.

2011 felt like starting all over and, in many ways, we were. We had to find a new market, we had to adapt fields that had been row-crop farmed conventionally for decades into sustainable vegetable gardens, and we had to carve a home for ourselves and our livestock out of a wilderness of a homestead that had been abandoned for over 2 decades. We learned that there is a much larger market in the Tristate for local, sustainably raised heritage meat and eggs and heirloom veggies than we expected and we've made some great new friends.

Since that time, we've enjoyed a long experiment in a variety of directions.

2012: After a particularly disappointing partnership with another farmer in who was to take on and run with the CSA operation, we ceased the vegetable CSA but we became active Saturday vendors at the Owensboro Regional Farmers Market.

We had been a part of a cow-dairy herd share to have awesome raw milk. Our farmer, Rose Hill Dairy, was looking for a home for a family cow and we purchased our first cow that year.
​
​The same year, we added four dairy goats to the farm and our dairy goat herd has grown quite a lot since then. We currently offer goat herd shares and chevon (goat meat) as available.

We also purchased a Katahdin (hair sheep) ewe and two wethers for our own personal use. After having repeated requests for lamb at the farmers market, we began developing that herd and can now offer lamb with limited regularity, because the demand has been very high.

2013: Our daughter wanted to try raising rabbits for meat so we purchased a trio of New Zealand rabbits for her. That experiment has had minimal success and is currently in a hiatus.

Maggie wanted her own calf for the 4H fair and we purchased a Dutch-Belted heifer from a nearby farmer. Since that time, our dairy cow herd has grown to 11 and we have a small market for cow herd shares. That year we also started experimenting with making cheeses and discovered how tasty cheese is that comes from our own cows and goats!

2014: In 2014 our various herds just grew, we built more fence, practiced making cheese, and were more present at the farmers market.

2015: That year we added Shetland sheep to our flock so our daughter could have sheep that wouldn't knock her down to show at the county 4H fair. They also make tiny but amazingly tasty lamb chops!

2016-17: These were more years of just keeping on keeping on, working our our herds and getting better at what we're doing. Our cow and goat herds had grown enough that, besides Maggie developing Popeye arms from hand milking, in 2016 we began to upgrade the old milk parlor and milking equipment. Since then, we have the milking operation fully up and running and are able to handle all the dairy animals we have with a good milk parlor. We also started the paperwork to become a Grade A dairy.

2018: As of Spring 2018, we are in the process of significantly downsizing our hog population; we've built a small market with goat and cow dairy herd-share; we've increased lamb production; and we've constructed a high-tunnel through a grant to return to and extend vegetable production. Our poultry and honey production has been up and down, depending on the season, but have a solid market for pasture raised yummy eggs and can sell all the honey the bees can give us, when we can get it away from them. Typical of most farmers, we're always hopeful that production this year will be stellar.

The motto of farming really is somewhere between "there's always next year" and "anything can happen"!
---