Have a Seat in the Swing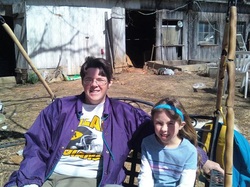 and enjoy a glass or cup of something lovely while we share about who we are and what we do.
​Maggie is definitely not the typical teenager. She loves to help around the farm and knows a lot more about food and how to grow crops and raise animals than most adults do. She helps with most things around the farm from milking the goats to gathering the eggs to weeding the garden and admin work. When she finds time to do other activities outside of school and the farm, she loves to sing, participate in 4-H, and read.
Glenn grew up on a farm and has grown things (not just plants or animals) all his life, and loves to do it. He does a lot of tasks that keep the farm up and running every day, but aren't necessarily the jobs that are fun to do or can be easily seen. He's also the one who's on the farm almost 24/7 because he doesn't have many things off the farm that require his attention.
Gail grew up in the country, but not on a working farm and didn't have direct farm experience until she married Glenn. She does a lot of bookkeeping and organizational things for the farm, but doesn't usually find time to go out and take care of the animals on a regular basis. She does have a lot of interest in healthy and clean eating and helping to provide that for other people both in knowledge and the food we grow, produce, and sell.
On these pages find out
What a CSA is
The story of our CSA
Why we choose to garden sustainably
How we choose the breeds we raise
- this link will actually take you to our Critter FAQs page in the Barn
Why we choose to raise heritage breeds
- this link will take you to another website but they do a great job of explaining.
In fact, below please find a list of links to other websites that do a great job of explaining.
---
"Sustainable Table celebrates local sustainable food, educates consumers on food-related issues and works to build community through food."

Take some time to browse the site. Find answers to questions about sustainable agriculture, heirloom and heritage, local foods, and more.


---

"The best

organic food

is what's grown

closest to you

. Use our website to find farmers' markets, family farms, and other sources of sustainably grown food in your area, where you can buy produce, grass-fed meats, and many other goodies."

Check out the CSA pages and look for our Local Harvest profile! And if you follow the link above for organic food you'll see a note about Naturally Grown. That's us.

---
"The US Ark of Taste is a catalog of over 200 delicious foods in danger of extinction. By promoting and eating Ark products we help ensure they remain in production and on our plates."

We focus on heritage meat from animals contained in the Ark of Taste such as the Mulefoot Hog, Narragansett Turkey, Dominique Chicken, Cayuga Duck, and Pilgrim Goose.

---