Fruits and Nuts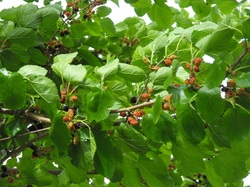 This page describes and lists the various fruits and nuts we grow or have on the farm. We also sometimes obtain fruits from other local farms and orchards but will always tell you.

Like vegetables, fruits can be divided into categories. We divide ours into fruit that grows on trees, fruit that grows in brambles and fruit that grows in the garden.

Weather, climate, and insects can impact fruit crops tremendously. A frost that comes too early or a spring that warms too soon can kill off a crop in one day. While we have, for instance, pear trees, we may or may not have a pear crop worth sharing. A CSA with Mulberry as part of its name would have to have mulberry trees and we do! In fact, mulberries are one of our favorite fruits. You'll rarely see them in a share, though, for two reasons: they have an extremely short season and they have a very high mushability - they're darned hard to transport fresh. All that being said, below you'll find a listing of our fruits (and nuts).
---
Fruit that Grows on Trees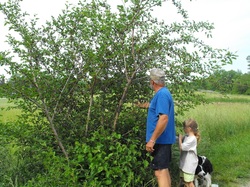 The following list includes the types of fruit trees we have. They may or may not produce enough to include in shares.


Apple
Cherry
Mulberry
Peach
Pear
Persimmon
Paw-paw

---
Fruit that Grows in Brambles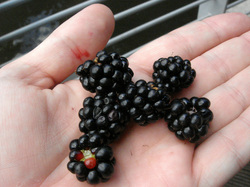 This list includes the types of brambles or thickets we have or have started. They may or may not produce enough to include in shares.

Blueberry
Blackberry
Raspberry
Huckleberry
Elderberry
Grapes
---
Fruit that Grows in the Garden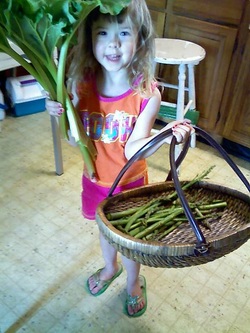 As with the others, these crops need to be established and are impacted by weather so they may or may not turn up in shares in any given season.

Strawberries
Rhubarb
---
Nuts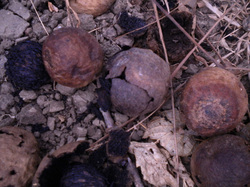 There are several nut trees on the farm and some we will plant as soon as we can. This list contains nut trees that are well established. For the most part, they don't produce enough for shares, but it's possible we'll get a bumper crop. Nut trees produce differently year to year.

Black Walnut
Pecan
Hickory
Chinese Chestnut
---