How Honeybees Came to Mulberry Creek CSA

Honeybees in the old Catalpa

It all started when we bought our little place near Dayton Ohio in 2001. We noticed that the huge old Catalpa tree next to the old springhouse contained a hive of honeybees. We were glad to have pollinators so close to the potential garden site. Then we learned about the bee blight and saw our hive disappear. A couple years later, they were back! Scouts from a swarming hive had found our old bee tree and decided to move in.

Still, we were simply interested in the bees' proximity to our garden and growing fruit trees and their pollinating potential.


---

More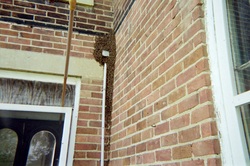 Swarm above and to the right of the door.
Then, one day, late on a Friday in fact, we noticed a large swarm of bees hovering over the house. Then they landed! Just above one of our exterior doors - fortunately one we don't use much - and systematically began moving in ... to the walls of our brick house! (We have since learned that a swarm of honeybees is virtually harmless to people. They're only interested in the queen, somewhere in the middle of that ball.)

We called the local Extension office to see if we could track down a beekeeper who could capture the swarm and were told (remember, this was late on a Friday and we probably got a freshman work-study student late for a date) to call an exterminator! Horrors! So, we opted to let it alone.

Fast forward to 2009. The hive in the Catalpa tree was thriving and there were now two hives in the walls of the house. It's an old brick house with very thick walls, probably two layers of brick with an air pocket in between, making excellent housing for bees, bats, squirrels, you name it.

---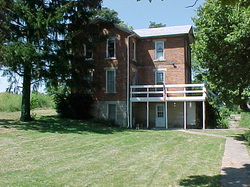 Where we lived before moving to Indiana
One fine spring day Glenn was going about his business of tending the various gardens of our CSA when he noticed a huge swarm of honeybees on a branch of the spruce tree next to the house. He immediately called an acquaintance who happened to be an expert beekeeper. Unfortunately, she was unable to come capture the swarm so she told Glenn what to do to capture the swarm and who to call for hive supplies.

If you know Glenn at all, you'll really appreciate this story. He got the step-ladder out and placed it under the branch, a low one, with the swarm. Then he dragged an empty 35 gallon aquarium out and placed it underneath. Armed with hedge clippers, he climbed the ladder and proceeded to attempt to cut the branch. (I wasn't there so didn't get any photos. I'm still not sure if I'm sad or glad, really.)

This was one huge swarm of bees (about a third bigger than a basketball) and as soon as that branch was partially cut, it gave way falling with a whack against the side of the ladder, bees going everywhere. Glenn grabbed the branch and stuck it in the aquarium. The bees (seemingly magically) schwooped right onto that branch. (Again, we've since learned it's not at all magic - they're only interested in the queen and will follow her wherever she goes.) He covered the aquarium with a screen and piece of plywood and waited for me to come home from work, in the meantime trying to get hold of a Master Beekeeper in the area who had a business selling beekeeping supplies.

About 9pm Glenn finally reached Paul who said it was critical to get that swarm into a super ASAP. So, off we went to Urbana, about an hour away. Paul builds and supplies hive materials and so forth and we purchased the first pieces of bee equipment we would need, including a super (by the way, the hive is the colony of bees. They live in a bee super). Paul also gave us about an hour's worth of free instruction on how to get the bees into the super and how to care for them, how to make their food (did you know bees need to be fed? I didn't.), and etc. We got home around midnight.

Glenn stayed up and painted the supers (did you know that beehives can be painted any color? The only reason most of them are white is because that's the color most people have on hand. Go figure.) The next morning, we set up the super, carried the aquarium to it, and Glenn got the bees into their new home. I snapped a couple photos:

---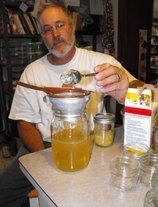 Straining wax out of honey
By the end of that summer our hive was going strong - growing much faster than we'd anticipated - and we had our first taste of honey that fall. But that's another story!
Please visit other pages in this section of the site to learn more about our bees, our honey, and beekeeping in general. Be sure to stop by the
Kitchen
for some recipes!
---