Honey Recipes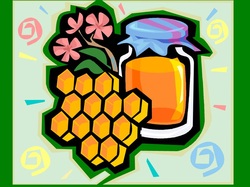 You'd think for having bees who provide us with very yummy honey I'd have just tons of honey recipes. But it's not true. I'm working on it, though! The longer we have bees and honey, the more honey I'm using.
For starters, below are a couple links for how to substitute honey for sugar in recipes you already have.
Then try the recipe page at the
National Honey Board
.
---
Substituting Honey and other Sweeteners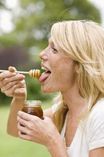 "Perhaps because it's produced by bees, people have the impression that honey is somehow healthier for you than sugar, but in terms of caloric content, honey and sugar are neck in neck. However, because honey is sweeter than sugar, people tend to use less of it. For those who want to reduce the amount of processed foods they eat, honey is a good bet -- it is processed once; sugar is processed multiple times. When substituting sugar, there is more than just weight to take into account."
Read more: How to Substitute Honey For Sugar in a Recipe | eHow.com
---
Sugar, Syrup & Honey Substitutes
"Baking is one of life's pleasures. Sometimes substitutions must be made but it is important to understand how to set about making changes before you get started. Sugar, syrup and honey are basic sweeteners used in baking and uncooked foods and desserts. All these sweeteners are selectively interchangeable. Several factors must be considered when substituting sweeteners in a recipe. Artificial sugar and liquid substitutes are available that make sweets an option for people restricted to special diet."
Read more:
Sugar, Syrup & Honey Substitutes | eHow.com
---


When I get a recipe (either find one I like or have some send one along) I'll post it.

If you have one to share, send it along!
Honey Slaw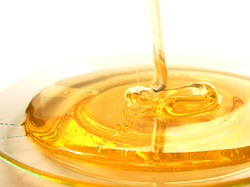 1 head of cabbage, shredded fine
1.5 cups of onion, diced fine
1 medium green bell pepper, diced fine
1 medium red bell pepper, diced fine
1 Tbsp salt
2 Tbsp honey
2/3 cup vegetable oil
1/2 cup sugar
1 cup white vinegar

In a large bowl, combine cabbage, onion and peppers. In a small saucepan, add vinegar, vegetable oil, salt, honey, and sugar, bring to a boil. Pour over cabbage mixture, but do not stir. Cover and refrigerate until cool. Then stir thoroughly.

(a low-cal slaw, submitted to the Dayton Daily News Life Section by a reader then passed along to us via MCFCSA members Larry & Lois Ramey)


---