Welcome to the Hen House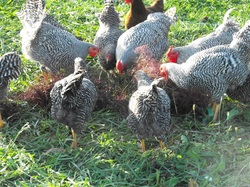 where you'll find everything you need to know (hopefully) about our poultry.
Check out the following pages for info about chicken eggs for eating or hatching and meat from our chickens, turkeys, ducks, and geese.
Order Form
---
About Our Birds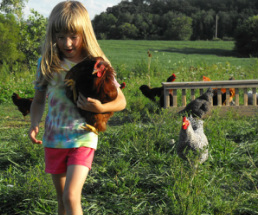 All our animals, including our poultry, are heritage breeds. What that means is that any of our poultry might have been seen in the farmyards of 150 years ago, they can reproduce without human intervention, and they have not been cross-bred since at least the 19th century. They're also pretty.
We have selected our birds from those heritage breeds generally called "heavy meat", "standard", or "dual purpose" breeds. They are all breeds recognized by the American Poultry Association as real breeds, although not all are of American origin. Many of these heritage breeds have histories going back hundreds of years and were part of the earliest farmsteads in this country. You can hear the history of their development in their names: Plymouth Rock; Rhode Island Red; Narragansett; Cayuga. In some names, you can spot the county in England or the country where their ancestors originated: Cornish or Pomeranian. The stories of some of these breeds are worth the read and we invite you to get a cup of your favorite beverage, sit back, and browse the Breeds Glossary.

Our laying hens come from a variety of breeds, all heritage or heritage crosses. Breeds who supply your eggs include brown egg layers: Dominique, Rhode Island Red, and White Plymouth Rock; white egg layers: Brown Leghorn; and we have a couple Americana hens who lay eggs of a lovely shade of blue-green. We also have a few hens running around of mixed parentage because from time to time a rooster gets in with the wrong set of hens!

Our meat chickens are primarily Dark Cornish heritage chickens but we also butcher roosters from our dual purpose Dominique, Rhode Island Red and White Rock flocks. By the way, the Dark Cornish are only distantly related to the Cornish-X-Cross commercial meat birds. You can learn more about this elsewhere on the site.

Our turkeys are primarily heritage Narragansett turkeys. Prior to the development of commercial varieties, the Narragansett was the most popular turkey for the table. Since there are wild turkeys on the farm, we sometimes have turkeys that are crosses, but they are heritage crosses. Typically, unless we have a huge demand for turkey, we eat the crosses and our shareholders get the pure Narragansetts.

Our ducks are heritage Cayuga ducks. As with all our other meat producing animals, Cayuga ducks are listed on the Slow Food Ark of Taste as being one of the best tasting ducks. Compared with the commercial Pekin, we have found the Cayuga to have a much fuller flavor. We raise a very limited number of ducks for butcher so get your order for these delicacies in early!

Our geese are in transition. We acquired a pair of Gray Saddleback Pomeranian geese a couple years ago and haven't had a lot of luck raising them (there's more to that story). We have yet to eat our first one let alone offer any goose shares. They are extremely hard to find and are not unique to North America so we are in the process of introducing the Pilgrim goose to the farm. We are hopeful that within a year or two we will be able to offer some goose shares.


For specifics about the different breeds, here they come from, how they compare to commercial breeds, etc., visit our breeds glossary.


---