Our Garden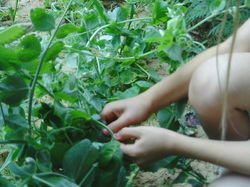 Click the underlined words to link to more information or browse the pages in this section (simply hover over the menu items at the upper right of this page. If there's a > it means there's a page that awaits.
Garden Shares
- a box of whatever we're harvesting every week or two, there are various options.
Crop List
- what we grow and when you might expect it: vegetables, herbs, fruits, & nuts.
Work Shares
- you share some of your time and effort on the farm, we share some of our produce with you. All work-sharing must be pre-approved and arranged. (NOTE: Please read the information about work shares
before
contacting us about it!)
Order Form
You will be asked to sign that you agree to our
Member Terms and Conditions
.
---