Crops Lists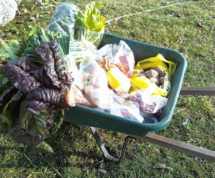 Mulberry Creek CSA offers vegetables, herbs, fruits & nuts, and some jarred products in CSA Garden Shares.
On the following pages you'll find complete lists of the crops we may grow:
vegetables
,
fruits
,
herbs
, and other.
If you are interested in the varieties or specifics of any vegetable or fruit, please contact us and we'll be happy to let you know.
---