Our Farming Practices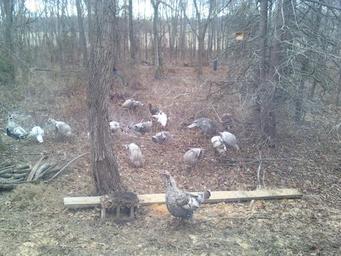 Domestic turkeys freely wandering through our woods
First, we'll insert a disclaimer. We have many friends and neighbors who practice conventional farming. We respect them, we get along with them, and we don't think they're evil. They do the best they can to produce their crops, be they animal or plant. They take care of their land as best they can and they care for their animals. We just have a different understanding and practice.
We practice
Sustainable Agriculture
, not perfectly, but we're working at it. Sustainable does not equal organic. There are some shared attributes, but there are many "Organic Farms" that are single crop producers, which is not sustainable farming. However, there are also many organic farms that are truly sustainable.
Basically, sustainable farming
- limits or eliminates the use of chemicals;
- is sensitive to the environment, both generally and locally, growing only what grows well in that climate, using water and land resources wisely, taking advantage of natural land features, hedgerows and windbreaks;
- doesn't house more animals than the land can sustain, returns manure to the land, practices livestock diversity, and treats animals humanely;
- reduces fossil fuel dependency by farming practices, even sometimes including using animal instead of tractor powered farming, and sell locally;
- are often highly involved in their local communities and support the local economy by not only selling locally but also buying locally.
At Mulberry Creek CSA we are always working toward being more sustainable in our farming and in our lifestyle. While we would like to be USDA Certified Organic, where we live, surrounded by commercial farms and industry, that is impractical at best. We do use organic practices as much as possible.
* We save seeds from as many of our different crops as we can, which means we use largely heirloom varieties. We're working toward returning our waste to the farm and relying less and less on manufactured chemical-based fertilizers and fossil fuels. We use chemicals only in a rescue situation: meaning that we only use chemical pesticides if the entire crop is threatened and only use chemical fertilizer when working with a field stripped of its nourishment by
industrial farming
.
* We raise most of what we eat or drink and purchase shares from other local farmers for some of what we can't or choose not to raise ourselves. For what we can't find locally, we try to purchase fairly traded as often as we can, although that's not always possible. We do pay attention to lables, however, and purchase what seems to be best all around.
* We treat all our animals humanely, which means we don't cut bits off them that God put there any more than we have to. We do castrate males who will not be used as breeding stock as that's one way of protecting both them and the females. We also allow our animals to range and behave as they are naturally inclined to, within limits. For instance, our hogs have freedom to range and root within fenced areas. We do have to confine animals from time to time, generally for breeding purposes, and for no longer than is necessary. When butchering time comes, we thank our animals and treat them humanely.
* We try to farm without depending on loans from others. We do seek grants from time to time, and now and then we need a piece of equipment that is more than our farm income can support, but our farm is mainly supported by our shareholders and those who purchase our animal created products. We do most of the work ourselves but also welcome assistance from family and neighbors as well, not to mention our shareholders. We use things until they are worn out, re-use and repair whenever we can, and try to live simply.
* We believe that our lifestyle contributes to social justice because we aren't participating as much as we might in feeding a corporate machine that depends on underpaid labor either from within the borders of our country or from elsewhere.
We address some of these issues elsewhere on this site and welcome conversation and questions.
---