The Right Place at the Right Time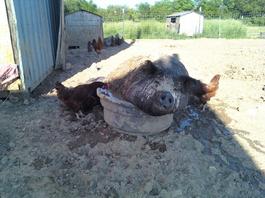 Luna in the water trough!
Here's a real "right place at the right time" story.
Back in the summer of 2009 I was in the process of updating the website, making it more "homey, farmy". At that time the only livestock we had was poultry and Noodles, the goat (a whole 'nother story). Well, the new template theme I found that was nearly perfect for us included a cute little piggy (there it is, up at the top of the page). So I commented in an off-hand way to Glenn over lunch, "we're going to have to add pigs sooner than we thought!"
Our plan at that point (that was before Glenn became disabled) was to eventually have the full range of food producing livestock on the farm including sheep, goats, pigs, and, perhaps, a cow or two. But sheep and goats were definitely next in our plan. Well here we were with a website image of a cute little piggy. What were we to do? In one of my spontaneous bursts of curiosity, I did a bit of research, what I always do when considering a new breed. First I went to the
Slow Food Ark of Taste
to see what hogs were listed there. Then I went to the
American Livestock Breeds Conservancy Priorities List
to see what hogs were critical. Voila! Something called the American Mulefoot was listed in both places
and
is native to North America (another factor that's important to us).
Neither of us had ever heard of a single-toed pig and I wanted to find out more about them. So I tracked down the
breed association
and looked to see if there were any breeders relatively close. I found two, e-mailed both, and in less than an hour (as I recall) the phone rang. We never have heard from that other farm, come to think of it.
One of those two farms we sent our questions to had just made the tough decision to sell all their livestock and we happened to be the people who inquired about hogs right then. They offered us an amazingly great deal and after we talked about it for ... oh, about a minute and a half, we decided to make the trip to meet these hogs and their "mom".
A couple months later, once the two sows had weaned their most recent litters,
Alfred the boar and sows Luna and Nova came to join our family
. You can see photos and videos of the hogs at
PBJ Farm
where they came from (they're so cute and little! Aw!), and below is a photo gallery of that original trio in their first few months at our old place in Ohio. Hover over the images to see captions.
---