Vegetable Crops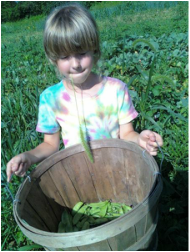 This page describes and lists the annual vegetables we grow. We plant most of these every year. Sometimes the weather and climate means we have a bumper crop of something. In 2009 we were overrun with sweet corn. In 2010, we had no end of squash, either summer or winter. In 2011, we had more okra than (almost) anyone wanted.
On the other hand, that same uncontrollable weather and climate sometimes leads to a crop failing. Such was the case in 2009 with our spinach (too much rain in the wrong place), in 2010 with greens (too hot too soon and too dry later), and in 2011 with our sweet corn (first too wet, then the deer ate it, then too dry).
So we plant a wide variety of vegetables to help us honor that promise of 8-12 different items in your share each week. We also plant different varieties of some things, such as tomatoes and lettuce.
Most seed order catalogs pretty much list all vegetables just in alphabetical order, although they may group greens, corn, beans and squash. For ease in planting and harvesting, we divide our crops as greens, root crops, vining crops, and general crops. We list them here that way, as well, although if you scroll to the bottom of this page, there is an alphabetical list of what we grow.
By the way, although they are in many ways vegetables,
herbs
are listed on their own page. While they are listed on the alphabetical list, we consider celery and garlic as herbs since that's the way they are mostly used. Some foods that are used as vegetables are really fruits (tomatoes) and some foods that are used as fruits are technically vegetables (melons, rhubarb). We include them on both the fruit and vegetable pages.
As always, any time you have a question about what we're growing, feel free to ask. We'll even be happy to introduce you to the crops while they're still in the ground!
---
Greens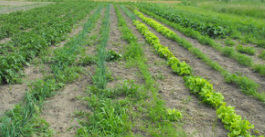 We include lots of stuff here that many people may not think of as greens (like cauliflower) mainly because there is one thing these robust veggies all have in common (besides being universally delicious!): they thrive in cooler weather.

These are some of the first things we plant and the shares early in the season will be heavy on these items. That happens again late in the season as our late summer plantings reach maturity. We sometimes have many of these well into December and even beyond.

The downside is that these yummies wilt and tend to become bitter or tangy when it gets hot and/or dry so don't expect a lot of leafy greens in the height of summer.

Most greens can be used raw alone or in salads or cooked alone or as part of a dish. Greens are some of the healthiest foods you can eat and should be included in at least two of every three meals. The darker the green, the healthier. That pale green lettuce variety popular with chain restaurants has almost no nutritional value.

Greens include:

Leafy Greens: Beet Greens, Kale, Lettuces, Mustard Greens, Spinach, Swiss Chard, Turnip Greens

Cabbage Family: Broccoli, Brussels Sprouts, Cabbage, Cauliflower


---
Vining Crops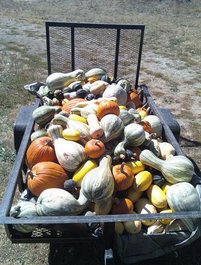 These are those vegetables that grow on vines, usually running along the ground, but occasionally climbing up a trellis or fence. Most, though not all, are squash or related to squash.

We plant our vining crops well after the soil is good and warm and many are not harvested until late fall although some can be harvested in full summer.

Vining crops include Melons, Summer Squashes, Winter Squashes and Gourds.

Summer Squashes, which include cucumber varieties, continue to grow throughout the season and may be harvested while still very young or more mature and may be harvested multiple times. If left on the vine too long, they will over-ripen. While each has it's own flavor (sometimes more subtle sometimes more distinct), and there are certainly recipes that favor one variety over another, generally any summer squash can be used in place of any other summer squash in a recipe.

We grow two types of cucumber: slicing and pickling. While they can be interchanged to a certain extent, it's best to pickle with pickling cucumbers and use slicing varieties in your salads.

Melons and Winter Squash, on the other hand, are not mature until after the vine has died and dried in late summer or fall. It is inadvisable to harvest (or eat!) an under-mature melon or squash (although you often find them in grocery store produce bins).

Winter squash are just about as interchangeable as summer squash. Next time you want a pumpkin pie but all you have is a cushaw squash, try using that instead. In fact, as we understand it, the cans of "pumpkin" sold in stores are actually cans of a variety of non-pumpkin winter squash! By the way, there is a difference between what we call pie pumpkins and jack-o-lantern pumpkins. Jacks, while edible as any other pumpkin, have much less flavor or meat (making them far more suitable for containing a lit candle) than pie pumpkins which are much meatier and far more flavorful.

Gourds, while related to winter squash, are inedible. Interestingly, some of the most delicious and versatile winter squashes are often mistaken as gourds to their detriment. (They make far better food than decoration!)

Vining crops include:

Melons: Cantaloupes/Muskmelons, Watermelons (technically vegetables, but used as fruit)

Summer Squashes: Slicing and Pickling Cucumbers, Pattypan Squash, Yellow Straight Necked or Crooknecked Squash, Zucchini

Winter Squashes: Acorn, Butternut, Cushaw, Long Island Cheese, Pumpkins (both Jack-O-Lantern and Pie), Turban, and others

Gourds (gourds come in a seemingly endless array of size, shape and color and we change up from year to year what we grow)


---
Root Crops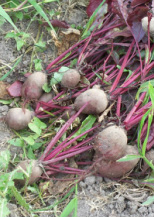 Root crops are those vegetables whose used part grows at least partially underground. By the way: many root crops, such as potatoes and beets, will store better if left unwashed.

These are crops that get planted as soon as the ground is warm enough but that aren't necessarily harvested until late summer. However, some have dual uses. Turnips and Beets, for instance, both produce an edible root as well as tasty extremely vitamin rich greens. Some onion varieties may be eaten as green onions while they're still quite young or we can wait until they mature into the dried storage vegetable that's sold in mesh bags in stores.

Most roots can be enjoyed either raw or cooked, but some are better suited to one or the other. For instance, not many people like raw potatoes or cooked radishes.

Root crops include the following types (some fall into multiple categories):

Onions and relatives: Bulb Onions, Green Onions/Scallions, Leeks, Shallots

Roots with edible tops: Beets, Green Onions, Leeks, Turnips

Roots that grow completely underground: Potatoes, Yams/Sweet Potatoes
Roots that grow partially underground: Carrots, Onion varieties, Parsnips, Radishes, Rutabagas, Turnip

Roots that grow above ground: Kohlrabi


---
Veggies with their Own Categories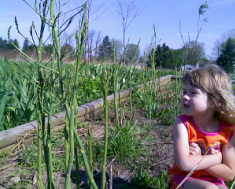 There are many garden vegetables that don't fit well into some other category (greens, roots, vines) mainly because they are their own category! These are your basic garden vegetables, the stuff you're more likely to see on your plate at a restaurant. We lump them together because, although these veggies all have numerous varieties, we only grow one or two varieties of each. Except for tomatoes. We grow lots of those!

Most are planted early in the season and harvested by mid-Summer, although dry beans and flint corn varieties aren't harvested until they dry in late fall. Some, like green or yellow beans, continue to produce all season, while others, like sweet corn, only produce once. A tidbit of trivia that many people don't know: asparagus is actually a perennial vegetable and it takes at least three years before a plant will produce enough to harvest.

Tomatoes really deserve their own category as we grow more than a dozen different varieties, all of which have different flavors and purposes. While technically a fruit, tomatoes are used as vegetables most of the time, hence our listing them here. Our tomatoes are all heirloom varieties which means that their skins are extremely thin and they split with almost no hesitation! However, we feel that the exquisite flavors and nutritional benefits of heirloom tomatoes are well worth the trouble and we hope you do, too.

Asparagus
Beans: Green Bush, Yellow/Wax Bush, Dry/Shell
Corn: Sweet, Pop, Flint/Indian
Eggplant
Okra
Peas: Garden/Shell, Snow
Peppers: Sweet, Semi-Hot
Rhubarb (while technically a vegetable, it is usually used as a fruit)
Tomatoes: Cherry, Slicing, Paste


---
Alphabetical Listing of Vegetables We Grow
Some of the crops in this list we consider herbs or fruit but list them here since they are, technically, vegetables. Additionally, some are listed more than once as in "Beet Greens" and "Greens, Beet". We're hoping listing them with popular alternatives will help. If you're interested in specific varieties, please pop us an e-mail or ask next time you're on the farm.


Asparagus

Beans, Dry/Shell

Beans, Green

Beans, Yellow/Wax

Beet Greens

Beets

Broccoli

Brussels Sprouts

Cabbage

Cantaloupe

Cauliflower

Carrots

Celery

Collard Greens

Corn, Flint/Indian

Corn, Pop

Corn, Sweet

Cucumbers, Pickling

Cucumbers, Slicing

Gourds

Greens, Beet

Greens, Collard

Greens, Mustard

Greens, Turnip

Kale

Kohlrabi

Leeks

Lettuce, Leaf

Lettuce, Head

Lettuce, Romaine


Melon, Cantaloupe / Muskmelon

Melon, Watermelon

Mustard Greens

Okra

Onions, Green

Onions, Bulb

Parsnips

Peas, Garden/Shell

Peas, Snow


Peppers, Sweet (Banana, Bell)

Potatoes, Irish

Potatoes, Sweet/Yam

Pumpkins

Radishes

Rhubarb

Rutabagas

Shallots

Spinach

Squash, Summer

Squash, Winter

Sweet Potatoes

Swiss Chard

Tomatoes, Cherry

Tomatoes, Paste

Tomatoes, Slice

Turnip Greens

Turnips

Watermelon

Zucchini