Past Animal Friends
This page remembers animal friends who have gone on to the Great Barnyard. Each added something special to the farm during their lives here.
Noodles the Goat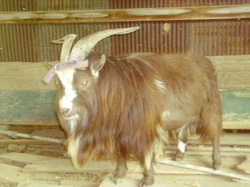 So one day back in April 2008 we get this phone call from the neighbor. He asked, "Do you want a goat?"

We'd been discussing adding sheep and/or goats to the farm anyway and as Jerry sounded rather desperate, we said, "Why not?" which is usually the answer we give people who have a farm animal they're not sure what to do with.

Jerry (the neighbor) had always thought it would be fun to have a goat so he went out and bought one. We couldn't for the life of us figure out why anyone would buy a young billy goat (aka buck) with no accompanying nanny (aka doe) unless the destination was kabobs but there it was.

Noodles was a little more than a year old at the time and a little stinker. If he hadn't already been saddled with the name Noodles he'd have been given the cumbersome moniker of Horatio P. Stinko, after a goat from Gail's dad's childhood.

He did serve a purpose. We'd had some problems with possum bagging chickens and that pretty much ended. And he did eat a lot of weeds.

Noodles was one of the first critters to move here in the fall of 2010, primarily because there are a lot of brambles here and goats are famous for eating brambles. (Naturally, Noodles has yet to show a real interest in them.)

At this point, Noodles is pretty much a fixture of the farm. Sort of a mascot. He serves little purpose except giving the dogs something to bark at, sneaking the chickens' grain, and being a general nuisance. We have enough tree cover that he doesn't deter the predators at all, but we're used to him, even if he smells funny.
---
Daisy O'Mutt and Jack Dog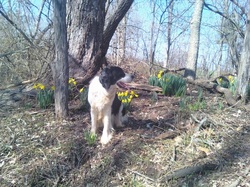 When you visit the farm, the first "person" you will be greeted by depends on the season and whether the front door is open. Daisy and Jack are both people lovers and truly enjoy meeting new friends to jump on (they're not supposed to jump, by the way, please don't encourage them).
When we got married, neither of us had a pet but we wanted a dog. Unfortunately, the rule at that time was that if you already had an animal, a church had to allow you to keep it in the parsonage, but could deny you getting one. In 2002, about the time Maggie was born, we were renting a house from a couple who said, "Sure! You can have a dog. We have dogs and had them in that house, go ahead." So Glenn did some research.
He wanted a hunting dog and had always had Brittney Spaniels. He couldn't find a Brittney, but he found a Springer Spaniel through the
Springer Rescue
organization. Daisy was about a year and a half old and Springer was appropriate. She was a real wiggle-butt, shadow chasing, bundle of energy. But, unfortunately, it turned out she was gun-shy. Not such a great fit for a hunting dog! She's afraid of any kind of sharp, loud noise (and these days goes and hides even if it just starts to rain).
Now at almost 12, she's starting to slow down, is getting temperamental, has early cataracts, and may be losing her hearing. But she's still a pretty lovable mutt. She knows pretty much where pigs aren't allowed and will bark at them, but she's not much of a herder - just kind of general chaotic barking and nipping. Sometimes it helps sometimes, well, not so much. She also has a hate-hate relationship with our tom turkey and Noodles the goat.
---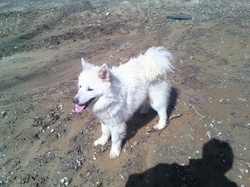 Jack was a dump dog. We were driving home one evening in the spring of 2011 and he was rooting along the road near the end of our lane, obviously hungry and looking for something to eat.

It happens out here - people get a cute little puppy for their kids for Christmas and then the cute little puppy grows up. Remember that old ASPCA commercial with the dog chained in the backyard in the snow? Well, some people just take their animals out to the country and turn them loose. Whether they know some farm family will take them in or whether it's just base cruelty is anyone's guess.

So we brought this dog up to the house, gave him something to eat, and set out to ry to find him a home. None of the no-kill shelters in the area had room. After a bit of research, we came to the conclusion that he's an American Eskimo mix so we contacted the American Eskimo rescue organization but never got any kind of response. We let him stick around a while, then a while longer. We'd dubbed him Jack - don't know why, it just seemed to fit.

Jack is a sweet dog who is highly intelligent with a very strong herding instinct. He actually herds, doesn't just bark. If we actually had the resources to get him proper training, he'd be an awesome herding dog. As it is, he's useful to have around, he keeps the pigs where they need to be, barks at predators, and is tormented by the local squirrel population who seem to think it's funny to chatter at him from the tree tops. Often at about 2 a.m. After a year he stopped barking at the moon, thankfully.

Jack has become a fixture on the farm.
---
Our Growing Cat Family
Spotty, Socks, Koko, Yum Yum, Puff, Mittens
After being licked to death by the dogs (unless we have them sequestered), the next people you may notice, depending again on the weather etc, are the plethora of cats about the place.

It was fall of 2007 and the annual invasion of rodents looking for a suitable winter home was beginning. So one day I quipped, "we ought to have a cat." Imagine my surprise when I began opening Christmas gifts and found, gasp, a bag of cat food, among other things. Glenn had taken me seriously.

So in the spring when a nearby family put out their semi-annual "Free Kittens" sign, we went shopping and came home with Tiger, an adorable nearly black chocolate brown male. At the advice of some of our cat loving friends, we went back the next day to get Maggie a kitten (as a pre-kindergarten graduation gift) only to find the kittens were all gone. We ended up getting Anna from a shelter. Since then, Tiger has gone to cat heaven but Anna reigns supreme as the only cat allowed in the house.

In the spring of 2011, Glenn's brother noticed a couple tiny kittens at his dumpster. Every farm needs a few barn cats so we rescued Socks and Mittens from certain death. Socks, a female with a gimpy leg, had kittens in April 2012 (after a nighttime rendezvous with a white stray that had been roaming the area). Mittens, bless his little heart, is unable to be a father. Poor kitty. So we were blessed with a litter of kittens, one of whom, Yum Yum, has since gone to live with one of Maggie's friends in KY. The other three (Puff, Koko, and Spotty) are happily growing and learning to follow in their mother's footsteps and eat mice. We promised Maggie she could keep one and she chose Puff. So far no one has taken us up on the offer to sneak Spotty or Koko into their trunk. Least of all Maggie.
---