Critter FAQ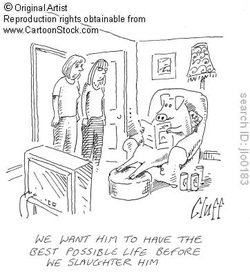 These are questions we've been asked, often multiple times. If you don't find what you're looking for, drop us a line.
How do you decide what breeds to keep? Are any of them genetically modified commercial varieties?
Second question first: We accept no genetically engineered animals or breeds – all our animals got their genetics through natural selection. For instance, some are cross-bred, but between heritage breeds, such as a Dominique rooster got into the Rhode Island Red pen.
On our breeds, we have primarily heritage breeds and some animals that are crosses of heritage breeds (as in, their parents were heritage) not always intentionally! We have four basic considerations for which breeds we select, all of about equal importance. From time to time we acquire something that doesn't meet one of these criteria, but most of our breeds meet all five. We select breeds that
will do well in this climate,


are contained in the Slow Food Ark of Taste,


are on the American Livestock Breeds Conservation list as threatened or critically rare, occasionally on watch,


are unique to North America,


and, of course, we like!
---
Poultry FAQ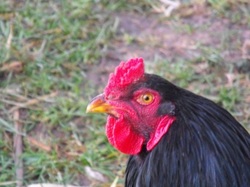 Dark Cornish rooster (our primary meat bird)
---
What breeds of poultry do you have?

For more information on particular breeds, please visit the poultry pages on our website.

Our laying hens come from a variety of breeds, all heritage or heritage crosses

Breeds who supply your eggs include brown egg layers: Dominique, Rhode Island Red, and White Plymouth Rock; white egg layers: Brown Leghorn; and we have a couple Americauna hens who lay eggs of a lovely shade of blue-green. There are also a fair few hens running around of mixed parentage.

Our meat birds are primarily Dark Cornish heritage chickens but we also butcher roosters from our dual purpose Dominique, Rhode Island Red and White Rock flocks. By the way, the Dark Cornish are only distantly related to the Cornish-X-Cross commercial meat birds. Occasionally, when we have a flock emergency caused by predators, we'll use some faster growing hybrids, but NEVER Cornish-X-Cross.

Our turkeys are primarily heritage Narragansett turkeys. Prior to the development of commercial varieties, the Narragansett was the most popular turkey for the table. Since there are wild turkeys on the farm, we sometimes have turkeys that are crosses, but they are heritage crosses. Typically, unless we have a huge demand for turkey, we eat the crosses and our shareholders get the pure Narragansetts.

Our ducks are heritage Cayuga ducks. As with all our other meat producing animals, Cayuga ducks are listed on the Slow Food Ark of Taste as being one of the best tasting ducks. Compared with the commercial Pekin, we have found the Cayuga to have a much fuller flavor.

Our geese are mostly Pilgrim geese, however there are a few of mixed parentage as well.

Are your poultry caged?

We never have any birds in isolated cages although we do lock them in the hen house for their own protection in winter months, for the protection of their range at other times, and when we're collecting hatching eggs from specific breeds. Most of the year, though, they are free to roam wherever they will (and lay their eggs wherever they will, too!)

What do your poultry eat?

Most of the year, our poultry all have access to whatever they can find naturally: grasses, bugs, gravel, as well as ground feed we grow here on the farm, a mixture of GMO free corn and hay, plus added soybean supplement if they need it, and oyster shell if shells are getting fragile. The exact content of their feed varies depending on what else is available to them and they get to choose what they think they need. The more bugs and grass are available, the less frequently we need to fill their feeders.

If our poultry are free to roam and can eat yummy bugs and grass, why do we have to feed them? In the winter, early spring, and late autumn, we have to feed them because there aren't enough insects and plants growing to feed them. The rest of the year, the waterfowl and turkeys pretty much fend for themselves, but we have to feed the chickens if we want them to consistently produce eggs all season. Like other animals who produce for young (for instance milking animals), a hen needs protein (as an aside, grass-fed cattle, sheep, and goats eat legumes like alfalfa for protein). The most cost effective way to get protein to egg layers is through soybean meal. Some people prefer not to consume anything involving soybeans, primarily because it's extremely difficult to find non-GMO soybeans, but soy-free chicken feed is prohibitively expensive, which is why soy-free eggs are typically so much more expensive. We don't promise soy-free eggs, but our hens have free choice when it comes to their feed. They only eat it when they can't find enough out in the woods and fields.

For even more on this topic, and using chickens as an example, in the natural world a hen can subsist on bugs and grass and will lay one nest of eggs somewhere, hatch chicks, and spend the rest of the season caring for those chicks. In the winter, she would die if she didn't have a warm place to go and food to eat. All chickens are descended from native jungle fowl of Southeast Asia where there's plenty to eat all the time. Hence, feeding them!

How late can I order a turkey or goose for Thanksgiving or Christmas?

You can wait until the last minute before you make your decision. However, keep in mind that it takes a good 6-8 months to grow a heritage turkey or goose to a decent size. We grow a certain number of birds regardless, but we also offer our poults and goslings for sale and we like turkey dinner, ourselves, from time to time. Your best bet is to order as early as you can to guarantee your bird. When you order early, you also have the option of making payments along the way rather than having to pay the whole thing at pick-up.


Hog FAQ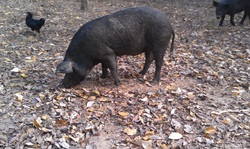 What breeds of hogs do you have?
We have purebred American Mulefoot Hogs. Our breeding stock is registered with the American Mulefoot Hog Association.
Please visit our
Pig Pen
for more about these marvelous swine!
I want to start a Mulefoot herd. Can I get a breeding trio from you?
Great! We're always happy to see new folks interested in Mulefoots.
There are very few Mulefoots out there (fewer than 1000 at last count) so it's very difficult to find a breeder with enough diversity to provide both halves of the breeding equation. In the past we have maintained multiple lines of Mulefoots for the purpose of selling breeding trios, however our own physical health as well as ignorance among some purchasers and other breeders has motivated us to concentrate on raising Mulefoots for meat. Therefore we no longer maintain registered stock for sale nor do we maintain enough diversity to sell trios. We will sell either boar or gilt/sow but not both unless the buyer is experienced and extremely knowledgeable about line breeding. We will accept pre-orders of registerable stock from approved applicants, please see
here
for more information.
How much do your hogs cost?
Contact us (via the
contact
page on this site) for a price. To help, though, you can expect to pay upwards of $300 per hog for registered Mulefoots regardless of the breeder, and somewhere in the neighborhood of $100 for a castrated / unregistered feeder hog.
Do you have pork for sale?
Yes. You can choose from among the following options:
1. Purchase a live pig and raise it yourself to butcher.
2. Purchase a live hog that you will have processed yourself.
3. Purchase a half or whole hog that we will have processed and packaged for you as part of the cost.
4. Purchase pork by the pound.
Please check out our Pork pages for more information or to order. (We also try to keep updated order forms on the home page.)
I'd like to purchase a half or whole hog, but I don't have the freezer space.
Purchase a hog share. With this option you can purchase a whole or half hog and you'll receive a percentage of the cuts each month. For more information, contact us.
---