Maggie's Farm On Price vs. Cost

(opinion)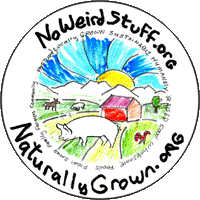 We've been asked more than once variations of the following: "I can get a butterball for $0.99/lb. Why are your turkeys so expensive?" "Pork at the grocery store is a lot less than yours, how come?" "I've purchased pork from XYZ Farm and theirs is cheaper." "Why does such a small chicken cost so much more than the nice big ones at the grocery?"
"I can goo to WalMart and get eggs for a dollar. How come you charge so much?"
Not to be rude, or anything, but you get what you pay for.
The bottom line is that you need to
know your priorities
. If your priority is price, you'll hit the refrigerated displays at your local big name chain grocery every time. If your priority is
cost
, on the other hand, or flavor, or animal health and well-being, or locally grown or sustainable, or chemical free, etc, you will do well to remove what's-on-the-price-tag from your consideration. Just know that labels don't always mean what you think they mean. to know for sure, buy directly from the farmer and ask questions.
Here's the deal. In general, it just takes a lot longer to grow a heritage animal, feathered or haired, than it does a commercial breed. Consider
poultry
. Commercial chickens are butchered at about 9 weeks, commercial turkeys at 14. Commercial birds have been genetically engineered (largely over time through breeding) to grow big fast on cheap food. Because they haven't yet reached maturity, they haven't yet developed the rich flavor a turkey or chicken ought to have. This is the main reason brining has become so popular. Our poultry, on the other hand, take a good 6 months to grow slowly and naturally, developing that good flavor (needing no brining). While they do range and forage on pasture, we still have to feed them some - poultry are not ruminants and they need some amount of grain. Corn costs money - the rise and fall of the price of gas pretty well parallels the rise and fall of the price of corn.
Now about
pork
, which isn't quite as simple except for the fact that it's a lot cheaper to raise commercial hogs than heritage hogs. Commercial hogs have been bred to produce lots and lots of ultra-lean pork chops and lots and lots of little pigs who grow up quickly to produce lots and lots of pork chops and so on and so on. Commercial hogs have also been bred to grow quickly in confined conditions and they really don't do well on pasture, although there are plenty of farms out there pasture raising Landrace hogs because that's what's been under cellophane for so long most people don't know what heritage pork looks like. (Pork is
not
supposed to be white, nor is it supposed to be ultra-lean.)
Again, when we raised them, it took much longer to grow our pasture raised heritage hogs than commercial hogs whether they're raised in a confinement operation or on pasture. Many commercial confinement operations force feed their hogs high protein feed often containing growth enhancers so they grow much more quickly. We never did. Many confinement operations remove the piglets from the sows very early and put the sow right back into pregnancy. We allowed our pigs to remain with their moms for at least 6 weeks before they wean and we allowed our sows some rest between breeding cycles. Commercial breeds make more babies than ours did, statistically it's about twice as many but in reality it's probably a much higher ratio, so between larger litters and faster growth, the cost per finished pig is less. A confinement operation also requires significantly less labor than a sustainable operation. Much of the work can be done with automation. We spend time with our animals, making sure they're healthy and happy, and that takes time.
Put those same commercial type hogs on pasture, allow them to farrow naturally, and they won't make as many pork chops or babies as in confinement but they still produce more pigs faster than a heritage breed under the same conditions. And there is still an overwhelming difference in quality of the meat. Pork should be pink and well marbled. A pork chop from a commercial breed of hog, whether from the grocery store or a pasture based farm, is much tougher than a heritage pork chop. We never need to cover our chops in sauces and marinades to make them palatable. (We use sauces because we like them.)
And then there's
beef
, to which similar principles can be applied. It takes us, on average, three acres per steer to grow a calf to butcher size, which takes about two years. To throw dairy into the mix, it's more for a cow in milk - and to grow a heifer from birth to giving birth and beginning to milk takes about two years, too.
Goats and sheep
take a lot less pasture than cattle, but they still need to eat. And all of these need fencing, shelter, and water, even when it's subzero and the waterlines are frozen. Speaking of winter, we need a LOT of hay to feed our livestock through the seasons when the grass is gone and before they can get out onto the pasture again.
We also feel very strongly about humane treatment of our animals. We feel that God created pigs to forage and root so they should be able to do that. Most commercial hogs never see sunlight or green grass. (If they do, they have rings in their noses to keep them from rooting.) We feel that moms should be able to nurse their young as long as they need. We feel that cows, goats, and sheep were created to graze and ruminate on pasture not subsist in a feedlot or dairy barn where they never see the first blade of grass. We feel that chickens were created to scratch and peck, not spend their lives in a tiny cage without access to fresh air and the bugs they love.
The bottom line is
that it just costs more, in money, time, effort and etc, to raise our heritage animals in natural conditions so the price tag is going to be higher. Again, know your priorities. If your priority is price, go to the grocery store. If you want an improved dining experience with more flavor as well as health benefit to you and your family and better for the world and the animals that produce that food, please be willing to spend a few extra dollars.
For more on the vexing issues of heritage breeds and sustainable farming, look elsewhere on this website and at other sources. By the way, let me just add, that the farmers who are growing those .99c turkeys are getting chicken feed for their work. The big ag companies get the profits, not the farmers. So at least go to the farmer to purchase your meat, dairy, eggs, etc, whenever possible, even if you prefer one of
those
animals!
---