Help! I Have a Swarm!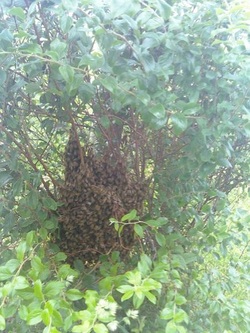 Honeybee swarm at Mulberry Creek CSA
If you need to remove unwanted honeybees, please consider live removal, rather than extermination. Bees are important to our planet, food crops and people.
If you're reasonably close to us, we'd be happy to help you out. If we can't, we'll do our best to put you in touch with someone who can. In Indiana, try the
Indiana Beekeepers Swarm List
.
Background information (thanks to the San Diego Beekeeping Society):
Why Do Honey Bees Swarm?
Swarm" is a term used when a portion of a hive - worker bees, a queen and possibly a few drones - leave and look for a new home. The main reason for swarming is overcrowding in the hive. In the Tristate, swarms usually occur in April and May, but swarms can occur at other times of the year. A swarm may contain from 2,000 to 30,000 bees. This instinctive process is nature's mechanism for colony reproduction. It's a good thing.
What is the Difference Between a Swarm and a Hive?
A swarm is a group of bees that recently left the "mother colony" that has not yet found a new hive. Swarming bees leave their hive, fly around briefly, and then cluster on a tree limb, shrub or other object. Swarms are usually football shaped. The queen is in the center of the cluster, protected by the other bees from both predators and the weather. Swarms usually remain in a cluster for an hour to a few days, depending on the weather and the time needed to find a new nest site by scouting bees. When a suitable location (such as a hollow tree) is found for the new colony, the swarm breaks up and flies to it.
When a swarm finds a new home, the swarm moves in, starts building comb and becomes a hive. Swarms are temporary. Hives are generally permanent (unless the bees are removed or die out).
Are Swarms Dangerous?
While swarms look very frightening, the bees in a swarm are usually very gentle and rarely sting unless directly provoked.
Are Bee Hives Dangerous?
Bees will defend their home, queen and young. Bees in a hive are more likely to sting than bees in a swarm.
What Should I Do if I Find a Swarm or a Hive on my Property?
If a swarm lands on your property, do not disturb it. If you do nothing, most likely the swarm will move to a new home in 1-3 days. However, if you would like the swarm removed, contact a beekeeper for removal.
If you find a permanent hive on your property, you may want to do nothing, allowing the hive to continue to exist if the bees are not creating a problem. However, if the bees are aggressive, or are located in an undesirable location, contact a beekeeper for removal.
Can Swarms and Hives Be Removed Without Killing the Bees?
Swarms can almost always be removed without killing the bees (the possible exception might be aggressive, Africanized bees).
Many (but not all) hives can be removed without killing the bees. Hive removal involves much more work than swarm removal. Whether or not a hive can be removed without killing the bees will depend on where the hive is located and whether the bees are aggressive.
---