Apiary Updates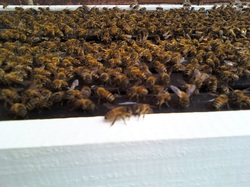 Winter 2013-14 was horrible for small beekeepers. The long, extremely cold conditions caused some hives to freeze and others to starve. We lost about two-thirds of our hives over the winter. The good news is that the hives that survived were the strongest and are doing well.


As of May 2014, Mulberry Creek CSA has 7 hives in 2 locations.


We are able to capture swarms, make supers, and extract honey.

Over time, we'll share some of our stories and upload some pics!
---
Below are some of our more memorable bee related stories...
Be sure to visit the
Bee-ginning of this section
of the site for how we got into beekeeping in the first place. At the end of that story, I promised the story of our very first honey harvest.
Our First Attempt at Honey Extraction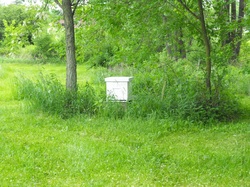 We captured our first swarm in the spring of 2009 and it was a ginormous swarm and they started making honey like crazy. One of the first rules of beekeeping is to give the colony plenty of room to set up housekeeping, including a spacious larder, before seeking any honey for yourself. I mean, it's only polite, really. Usually it's one deep super for living and nursery quarters and a second deep for their honey stores. Then as many medium or shallow supers as they'll fill can be added from which the beekeeper can remove honey, usually in the fall, sometimes sooner. It often takes a good year before a colony produces enough to share with humans.

That first colony, as I said, produced like crazy and by fall we had added a couple honey supers and were ready to harvest some. Our education in the College of Bees had been rapid and steep but now we needed to add a whole new discipline: extracting honey.

As you may know, bees make the honey and store it in comb. I will not tell you here how that is accomplished except to say that a 10 year old boy would find it amusing. Anyway, as each cell of the comb is filled, the bees monitor the water content. When it reaches the perfect ratio, they cap the cell with more wax. Honey will keep forever, as far as anyone knows (did you know they've found honey in Egyptian tombs and it was still good? Incredible.), and moreover honey is sterile inside those capped cells. An amazing thing. So generally the beekeeper has to remove the caps from the comb in such a way that minimal wax gets into the honey, preferably also leaving at least some of the comb intact for the next batch. There's a nifty spinning gadget called an extractor that does most of this quite handily but we didn't have one. What to do?
---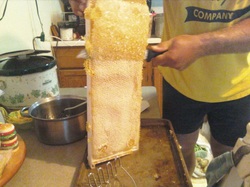 We came to the conclusion that we needed to melt the wax off the honey. Really. So we cut the comb away from the frames onto a cookie sheet and set the cookie sheet on an extended oven rack with the oven door open and the oven set at the lowest setting. Internal temperatures inside a beehive can get pretty warm in the summer, even with their version of air conditioning (they flap their wings creating a cooling system - that's the buzzing), but we still thought 150 degrees might be a tad bit warm hence the open oven.

As the wax melted and the honey became more fluid, we poured it off into a container. There was still a fair amount of wax in the honey and there was a good amount of honey in the wax. We dumped the wax into a wire colander and set it on a cooling rack over a bowl and let it drain for a couple days. If you're a beekeeper you're no doubt rolling on the floor at this point.
---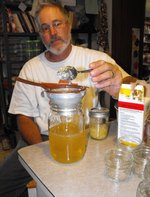 To get the wax out of the honey, see the photo to the right, there. Any idea how long that took? Are you aware of how hard it is to get beeswax off kitchen utensils? (Free Tip: Rubbing alcohol.)

Even with all this painstaking and sticky process, there was still a layer of wax on top of the honey. We spooned it off. We tried swiping it off with a cloth. Oi. I mean, seriously. What. A. Mess.

But we learned from it. Glenn, the incurable "I can do it cheaper" inventor created a honey extractor from a rubber trash can, a drill, and some metal. Below are some photos of that extractor. It worked great - burned out the drill after a few runs, but other than that it's exceptional. We do still use it. (We use a more powerful drill, now. And it has a lid, by the way.)
---
I will add that this extractor is a great work-out machine and requires two adults. One to hold the drill (we trimmed that drive shaft not long after these photos were taken) and the other to keep the rubber can from flying off into orbit. It's a bit rattling, let me tell you. But it's a LOT easier and WAY less messy than the oven and cookie sheet method.