CSA Pork Shares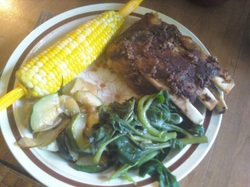 Crockpot Spareribs with fresh garden veggies
Mulberry Creek Farm CSA Pork Shares consist of succulent pork from old style hogs who are raised on pasture/range (with supplemental non-GMO feed that we grow) and are antibiotic free.
We offering whole, half and quarter hogs and pork by the cut, processed and packaged, as well as suckling pigs by special order.
You may choose to receive your pork in bulk or on a monthly basis. You may also purchase a piglet to feed out yourself. A 50% deposit is required at the time of order for whole or half hog or suckling pig. Balance is due at time of receipt. Currently, all meat pick-ups are at the farm.
Order Form
Live Hogs
Feeder pig (live animal up to 50 lbs) = $75
Butcher hog (live animal more than 50 lbs) = $2/lb live weight
Meat
Whole Hog Share: $4/lb. reg. cuts; $5/lb. ham/bacon
Half Hog Share: $4/lb. reg. cuts; $5/lb. ham/bacon
Quarter Hog Share: $5/lb. reg. cuts; $6/lb. ham/bacon (1 pick-up only)
By cut: $5/lb. reg. cuts; $6/lb. ham/bacon/sausage
Suckling Pig: (
contact us
for price)
Please contact us for current specials.
---
Mulberry Creek CSA Range Raised Heritage Pork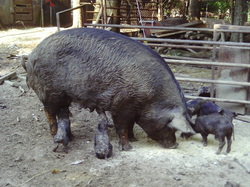 Our goal is to be truly sustainable - and in our mind that means that we can sustain ourselves mostly with what we have on the farm, much like our ancestors of the not so very distant past did.
The critically rare Mulefoot Pig is (like nearly all of our other livestock) also listed on the
Slow Food Ark of Taste.
In these pages you can:
Hear
the story
of how the American Mulefoot Hog came to live at Mulberry Creek
Learn about the breed
, American Mulefoot Hog, both in the past and today
Find out
why this pork is so good
it's on the Slow Food Ark of Taste
Find out how to
raise your own
hog either to eat or to breed
Order pork
!
Below are a few websites dealing with American Mulefoot Hogs in particular, heritage animals in general, and yummy pork!
---
Heritage Breeds

"The American Livestock Breeds Conservancy is a nonprofit membership organization working to protect over 180 breeds of livestock and poultry from extinction. Included are asses, cattle, goats, horses, sheep, pigs, rabbits, chickens, ducks, geese, and turkeys."


---

American Mulefoot Hog

"The Mulefoot is an American hog breed that is named for its most distinctive feature, the solid, non-cloven hoof which looks like the hoof of a mule." - American Livestock Breeds Conservancy Mulefoot Hog page


---
Oklahoma State Animal Science Breeds of Livestock site

"This site is intended as an educational and informational resource on breeds of livestock throughout the world."


---

OK State Mulefoot page

"Pigs with solid hooves (also called syndactylism) have attracted the interest of many writers over the centuries, including Aristotle and Darwin."


---
Local Harvest Heritage Meat

"Before supermarkets and distributors made mass-produced livestock dominant on the market, American farms raised a wide variety of farm animal breeds. These were developed over centuries for being able to thrive in their particular climate and environment, and for the flavor and texture of their meats." Follow the links to the Heritage Pork page. Hopefully they'll add Mulefoot to the list soon!


---

"Our association's goal is to document and preserve the American Mulefoot Hog, and save it from extinction."

This is the only registry we recognize and the one in which our hogs are registered.


---
Sustainable Table Heritage Breeds

"Heritage breeds are traditional livestock breeds that were raised by farmers in the past, before the drastic reduction of breed variety caused by the rise of industrial agriculture."


---

Ark of Taste Mulefoot Hog page

"The Mulefoot Hog is an American breed that descended from the hogs that the Spanish brought to Florida and the Gulf Coast in the 1500s."


---