The Best Pork Around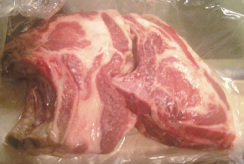 Fresh chops from one of our hogs.
One of the reasons we selected the Mulefoot Hog over other heritage breeds is that it is listed on the
Slow Food Ark of Taste
as among the best tasting hogs out there. We want the breeds we preserve to be useful, not just maintained for the sake of maintenance. As one anonymous farmer has stated, "Farmers aren't interested in raising zoo animals." We don't keep livestock as pets. We raise them because they're useful, either by being edible or by otherwise providing a product (milk, hair, honey) or service (mousing or keeping coyotes at bay).
Order Mulberry Creek Mulefoot Pork
here.

Mark Dibert of the AMHA says, "It may seem odd to use rare heritage breed pigs for pork, but these breeds simply will not survive unless a market for these animals can be created.
Already 6 of the 15 breeds of pigs raised in the United States in the 1930s are extinct.
"
Mulefoot pigs are an endangered American breed that, two years ago, only had 200 to their name. Mark Sula of the Chicago Reader, in his
Whole Hog Project
article wrote: "
the only way mulefoots can survive is if people start eating them again. Fortunately for the mulefoots, centuries of careful breeding have produced hardy animals that thrive outdoors, make good mothers, and are renowned for their delicious fat and rosy, well-marbled meat—a far cry from the wan, tasteless, industrially produced pork sold in supermarkets as the 'Other White Meat.'

"If you treat them like a zoo animal they'll become zoo animals," says Linda Derrickson of Hillspring Eco Farm in Blanchardville, Wisconsin. "That won't be enough to really keep the genetics and the vitality of the breed. Farmers aren't going to raise zoo animals. There's enough zoos. And farmers have to be able to get some income from them, and that means putting them in the food stream."

To foster the animal's genetic vitality, you actually should eat them. (Of course, at Mulberry Creek Farm we don't eat our breeding stock. And our policy is to never eat an animal that has a name. The trick is to keep our daughter from naming every one!)
---
The other white meat?
Mark Dibert writes (and we agree), "That's not the way we think of pork, and after you taste Mulefoot pork, you won't either". (I was going to put a photo here but couldn't find one that didn't make me lose my appetite.)
Heritage pork is, "darker, more heavily marbled with fat, juicier and richer-tasting than most pork, and perfect for grilling." (Florence Fabricant of the New York Times, did say this - I've been in touch with her - however it was in refrence to a Japanese breed of heritage hog, not heritage hog in general.) The Slow Food Ark of Taste states: "Because of the high fat content, this breed is particularly good for high quality ham." Here's
one place
you can find a few heritage pork recipes featuring Mulefoot pork.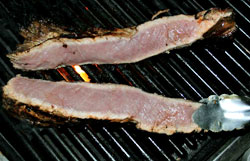 courtesy Arie McFarlen, Maveric Ranch
On his Gourmet Meat page, Mark Dibert includes: The meat is a rich, beefy color, unlike the anemic color of factory farmed pork.
Factory farms breed pigs to produce the greatest amount of meat for the lowest cost, regardless of the need for genetic diversity or the quality of the meat. The resulting product is a standard size, color, and flavor, however dull that may be.
Pork from heritage breeds is more moist and has a better flavor and texture than the pork from conventional hybrids. When pasture-raised meat is good, it's unforgettable. Mulefoot pork is freckled with marbling and is red like beef. The meat is dense but not tough and the fat melts slowly, so when you're braising, it takes hours for it to soften, and as it cooks, the fat keeps bathing the meat, making it silky. You can also cook this pork simply--grilling or roasting it, for instance. It melts in your mouth like butter. There's no need to infuse it with extra fat and flavor, which is necessary with commercial pork. Here's a
taste test b
etween Mulefoot and factory pork.
It usually does cost a bit more to buy meat from heritage breeds, but there are good reasons for the higher price tag: Heritage breeds take longer to reach market weight than conventional breeds. With hogs, because they also produce a higher percentage of body fat, fewer of those pounds consist of marketable cuts. The high quality and great flavor of the meat nevertheless creates steady demand from customers willing to pay the premium.
---
"At last, pork that doesn't taste as though it has been on a low-fat diet!"


There simply is no comparison... it tastes marvelous! Heritage pork has such good flavor it is being offered in many restaurants across the country. Demand for this high quality pork far outweighs supply when marketed properly. Back in 2008, Mike Sula of the Chicago Reader embarked on a project, called The Whole Hog Project, that followed three mulefoot pigs (Edna, Erma, and Endive) from birth (on a Wisconsin farm) to death (at a slaughterhouse) to an afterlife (at Chicago's Blackbird restaurant). The hairy oinkers, known for having uncloven hooves like mules, were spotlighted in a fancy six-course dinner that sold out within two days of being advertised.
Click here
to follow this story.
Below find some websites featuring heritage pork recipes and cooking tips.
---
Whole Hog Project recipes

for Green Apple Jam with Celery Oil,
Pork Crepinettes,
Porchetta

---

Heritage Pork Recipes from Arie McFarlen

Arie is the Mulefoot Queen and for many years held the largest herd of Mulefoots, many from the original foundation herd.
Recipes for grilled tenderloin, chops, and shoulder.


---