Herbs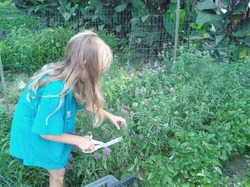 We hope to get back to growing a wide variety of herbs, mostly (but not all) culinary. Some are annuals, meaning we have to plant them every year, and some are perennials, meaning they grow permanently and come up every year. Some have multiple varieties. Some herbs listed below are better known as flowers, however they have culinary or other qualities that include them with the herbs. Additionally, we consider to be herbs anything that is primarily used to season foods, such as celery and horseradish.

For more about the herbs we are currently growing, please ask.

Many perennial herbs take multiple years to become well established. We are currently still creating our herb beds so some of the herbs listed may not be available in shares. In fact, we are still seeking seeds or starts for some of them. The bottom line is that the list below includes all the herbs we eventually hope to have established and available. The asterisked listings are those that appeared in shares last year.

We simply list the herbs here alphabetically. Over time, we hope to include storage and cooking tips for each of the herbs and welcome any shared information from our community!


---
Aloe

Anise

*Basil (several varieties)

Bee Balm

Betony

Borage

Calendula

Carroway

Celery

Chamomile

Chervil

Chive

Cilantro

Coriander

Cumin

Dill

Fennel

*Garlic

Garlic Chives

Geranium, Scented

Horseradish

Hyssop

Lavender

Lemon Balm

Lemon Mint

Lemon Verbena


Lovage

*Marjoram

Nasturtium

*Oregano

Parsley

Pennyroyal

Peppermint

Rosemary

Saffron Crocus

*Sage

Santolina

Savory

Southernwood

Spearmint

Stevia

Sweet Cicely

Sweet Woodruff

Tansy

Tarragon

*Thyme

Valerian

Violet

Yarrow


* what we grew last season