Heritage Chicken Recipes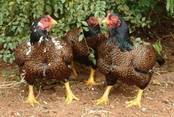 I have to admit something. There are just about 2 ways I cook chicken. Call me lazy, but there it is. Both are below. There are other ways to do both, but these are our tried and true recipes.

OK, every now and then we'll grill a bird and once in a great while I'll diverge and stew a bird for soup, but usually I get soup and casserole bits from the leftovers.

We only do turkey one way and that's only because the slow cooker won't hold a turkey.

---
Newbies Alert!

Newbies to heritage pastured chicken may find these birds "tough" - we prefer to say they are firm fleshed compared to what we find very mushy in commercial birds.

NOTE: We do not recommend grilling a heritage chicken if you are not used to the meat! When you ARE ready to grill your heritage chicken (when you've reached the point of no-going-back-to-commercial breeds), check out our favorite method here.


There are two things going on here. One is the very nature of a heritage bird vs. a commercial bird - commercial poultry has been bred to grow very large, very quickly. A commercial chicken is butchered at about 7 weeks. Our chickens are fully mature adult birds before butchering - 18-22 weeks old. Naturally, that means their meat isn't going to be the same as an old fashioned bird. The only genetic engineering we do with our poultry is what happens naturally when Mr Rooster gets together with Mrs Hen.

The second difference is that most commercial birds get little (or no) exercise. Even if they are not confined to a cage, they generally spend their short lives confined to a building with hundreds or even thousands of other birds. Our birds, on the other hand, spend their lives running and flying around the farm. They develop muscle tone in their legs and wings - hence a meat that is darker as well as firmer.

For more about the different kinds of meat chickens, scroll down.
---
Blasted Chicken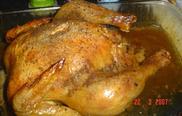 I got this recipe from a friend who got it from another farm about 5 years ago. It's the best recipe for heritage chicken!

It will leave a gorgeous, crispy skin on the outside, be moist and juicy on the inside, and the grease is left in the bottom of the pan. Like crock-pot chicken (below) the beauty of it is the variability by how it's seasoned.

Directions:Preheat the oven to 425*F.
Wash and season chicken. (See below for some seasoning suggestions.)
Place in a prepared baking pan.
Place chicken breast side down in a 425* preheated oven. (Breast up works, too, and I do it that way. But with the breast up, the juices will have more of a tendency to keep the breast moister.)
Do not cover it.
Do not open oven door once you put it in!
Bake 1 hour and turn off the oven but DO NOT open the door.
Leave it another 15 minutes with the oven door still closed.
Take out of oven and let sit for 10 minutes.
Serve!

---
Maggie's Favorite Crock Pot Chicken
About the time we started the CSA I discovered the crock pot. Somewhere in those early days I came across a basic recipe for crock-pot chicken and couldn't tell you where now if I tried. It's also the best recipe for heritage chicken!

This chicken will come out moist and juicy. Like blasted chicken (above) the beauty of it is the variability by how it's seasoned. If you ask Maggie what her favorite food is, she'll often say "our crock-pot chicken!"

Directions:
Prepare the slow cooker..
Wash and season chicken. (See below for some seasoning suggestions.)
Place in the slow cooker. Be sure the lid will close tightly - I usually have to cut the legs off and put them in the bottom to get the lid to stay closed.
Add liquid (see seasoning suggestions below).
Cover and set on low if all day or high if later in the day.
Serve!

---
Seasoning Suggestions for Blasted or Slow Cooked Chicken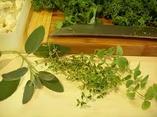 I season chickens both inside and out and actually use the same method whether I'm blasting or slow cooking.

Once the bird is washed and patted dry, halve an onion then halve one of the halfs. Put a quarter or half in the cavity (this will depend on the size of the bird as well as the size of the onion). If you're slow cooking, slice the other half and toss it into the bottom of the slow cooker.


Wash either an apple or an orange then quarter it. Put a couple quarters into the cavity. If an apple, you can put the remainder of the apple into the slow cooker. If an orange, have a snack.

Rub the bird all over with olive oil or butter. Sprinkle with your choice of seasonings (s&p, seasoned salt, an herbal mix, whatever). Put the bird in the baking pan or slow cooker.

Put your choice of herbs and spices in a cup of water and microwave on high for 3 or 4 minutes then pour into the cavity. Much of the water will run out of the bird into the container - it's supposed to. The seasonings should stay mostly in the cavity.

NOTE: It may or may not be necessary to add liquid to the slow cooker as the bird will produce it's own juices. I like to simply because it boosts the seasonings and gives the bird a bit of a head start in steaming.

My choice of herbs and spices: a bay leaf, 5-6 whole peppercorns, 4-5 whole allspice berries, 1 stick cinnamon, a clove or two of minced garlic, and a teaspoon or two each of parsley, rosemary, sage, thyme, and whatever else tickles my fancy at the moment. Sometimes I don't do that much.
---
More Recipes
More About Heritage Chicken
Below are a couple links that speak more about the difference between heritage and commercial (Cornish Cross) and other issues.