Abraham Lincoln National Parks

Here is all about the Abraham Lincoln National Parks.
By the way, here is a
really cool website
listing National Parks for all the presidents! They have a page for each park. Below I have listed the parks with links to the park websites. And then scroll down to learn a little about the parks I have visited.
National Parks about Abraham Lincoln's Life
Lincoln Birthplace National Historical Park
, Kentucky
Lincoln Boyhood National Memorial
, Indiana
Lincoln Home National Historic Site
, Illinois
Abraham Lincoln National Heritage Area
, Illinois
President's Park (White House)
, Washington, DC
President Lincoln's Cottage at the Soldiers' Home
, Washington, DC
Ford's Theatre National Historic Site
, Washington, DC
National Parks Remembering Abraham Lincoln
Lincoln Memorial National Memorial
, Washington, DC
Mount Rushmore
, South Dakota
Other National Parks that have to do with Abraham Lincoln
Gettysburg National Military Park
, Pennsylvania (Lincoln gave his famous Gettysburg Address here)
Yosemite National Park
(Lincoln signed legislation setting the land aside for public use)
Click
here
to see a whole list of Additional National Park Service Sites Associated with the Life and Presidency of Agramam Lincoln (including a lot of Civil War sites).
---
Lincoln National Parks I Have Visited
Lincoln Birthplace, Kentucky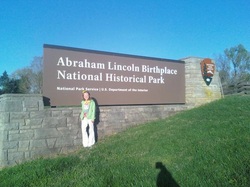 Abraham Lincoln was born in a log cabin at Sinking Spring Farm on February 12, 1809. When Abraham was 2 the family moved to the Knob Creek farm which is also part of this park. When he was 7 the family moved to Indiana where the Lincoln Boyhood National Monument is now.

When you go to the park there is a visitors center that you can go inside and see a movie on Abraham Lincoln's life. Then you can look around at the things that are in the visitors center.

We then went outside and went into the cabin memorial and we looked in there for a few minutes. The cabin that is in there isn't the real cabin. There might be a few logs from the real cabin but probably there aren't any because it was moved around so much. They took the cabin apart and sent it all the around the country. Then they got it to the Birthplace. They put it together again and put it where it is now in the cabin memorial.

Also if you are wondering there are 56 steps from the ground to the top where the memorial is. There are 56 steps for the 56 years of his life. I know because I counted them.

Knob Creek Farm
Abraham Lincoln moved to Knob Creek Farm when he was 2. This farm is the farm that Lincoln said was his earliest memory. It is also where his brother, Thomas, died.


---
Lincoln Boyhood Home, Indiana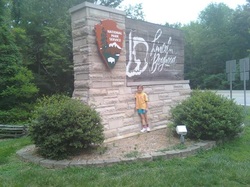 When he was 7 the family moved to Indiana where Abraham Lincoln grew up. When you get there, there are a lot of things to do. When you see the sings you go forward to the turin where the Visitors Center is. The Trail of Twelve Stones is at this park when you go into the visitors center if you ask who is on duty they might tell you where the trail is.

I have been here many times.

---
Milk Sickness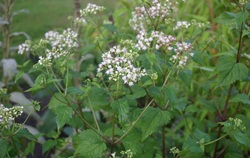 Nancy Hanks Lincoln died of the plant white snake-root also know as milk sickness to the pioneers. A lot of people were dying of milk sickness. They never did figure out why people were getting sick and dying. Almost the whole village died of white snake-root

1. The cow eats the snake-root. 2. The cow makes the milk and the poison mixes in with the milk. 3. The cow gets milked. 4. They drink the milk with the poison. 5. They get really sick and can die.
There were not many doctors at that time and the few doctors that were around could not easily be contacted for 2 main reasons, the was that most of the doctors were around the towns and people that lived in the prairie such as the Lincoln family would of had to go many miles to get to town in a limited amount of time. Most of the time it would take a good day to get to town get the medicine and then drive for almost another day to get back to the cabin. By that time the medicine wouldn't have probably done much good. The second reason is that doctors at that time didn't know how to cure the disease. Actually, all the pioneers knew about milk sickness at that point was that many people were getting it and dying. The few people that didn't get it or survived it were very sad because in almost every household they lost at least 1 person. Later on after it had passed on out of the way people started figuring out what it was, what caused it, and later on how to cure it.

---
Lincoln Heritage Area, Illinois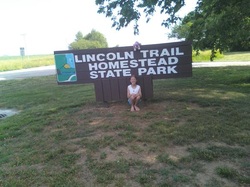 This isn't a National Park, but there are a lot of places in Illinois important about Abraham Lincoln so there are a lot of people who want this part of Illinois to be a National Heritage Area. I have been to lots of those places but would like to visit more of them.

I think Thomas Lincoln moved his family to Illinois because he thought it was getting too crowded back in Indiana. Thomas once said that if you could see your neighbor's smoke from their chimney you were too close to them.

---
Lincoln Home, Illinois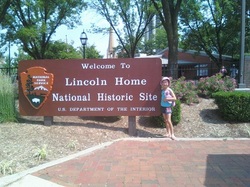 Abraham moved to the village of New Salem when he was an adult. It is state park not a national park and you can read about it on my
Trail of Twelve Stones
page.
The only Abraham Lincoln national park in Illinois is the Lincoln Home National Historic Site. If you go on Memorial Day Weekend then you get to see a Reenactment of what life was like when Abraham Lincoln lived there.There is a house that is Abraham's and Mary's actual house that they lived in.
---
Gettysburg, Pennsilvainia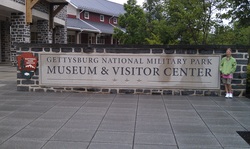 This site isn't a very significant site in Abraham Lincoln's life because he was only there long enough to give a two-minute speech, but it is important for two reasons. One because it was very important battle site in the American Civil War and that was the war that Abraham Lincoln was president during. Two because he went there to do a speech that may have helped change the out come of the entire war. I remember that the guy that went before Abraham Lincoln gave a two-hour speech and nobody even remembers his name.
I got to visit Gettysburg with my mom during the summer of 2012. They had a movie and a panorama in the visitors center. Also when you go to the battlefield they have big stone memorials and signs all over the whole battlefield. They tell you important events that happened and they point out the small battles that different regiments (see below) fought in and where certain people fell during the battle. You can see and climb Little Round Top where the 20th Maine regiment fought. You can go to a hill and see the whole battlefield at one time. You can also see Devil's Den where so many people got killed. They named it that because there are so many sharp rocks. There is also the peach orchard and the plain where Pickett's Charge took place.
There are lots of soldiers in an army but what else are they in?
A solider and 99 others made up a company.
10 companies made up a regiment. A regiment was sometimes divided into two battalions. (The 20th Maine was a regiment from Maine.)
About 4 Regiments made up a Brigade, but there could be more.
2 or 3 Brigades made up a Division, but there could be more. (General Pickett was in charge of a Division.)
3 Divisions made up a Corps, but there could be more.
2 or 3 Corps made up an army, but there could be more.
The Army of the Potomac (the union army) had seven corps making an army led by General Meade. You can find out more about the Army of the Potomac at Gettysburg here.
The 20th Maine Regiment was in the 3rd Brigade of the 1st Division of the V Corps of the Army of the Potomac.
The Army of Northern Virginia (the confederate army) had 3 corps making an army led by General Lee. You can find out more about the Army of Northern Virginia at Gettysburg
here
.
Because there could be more or fewer regiments or brigades or divisions or corps in an army, even though there were only 3 corps in the confederate army and 7 in the union army at Gettysburg, there were about the same number of soldiers. Find out more
here
.
When I visited Gettysburg, I wanted to find if there were any soldiers from Indiana because that's where I live.
There were
! Mom and I found the monument for the 3rd Indiana Cavalry but there are many others.
We also visited the cemetery where the Union soldiers were buried. We found out that the confederate soldiers were just left where they fell or tossed in ditches. I don't think that was the right thing to do. Later, many confederate bodies were moved to their own cemetery in the south. The Gettysburg National Park website says, "The southern dead were removed to cemeteries in North and South Carolina, Georgia, and Virginia between 1871 and 1873. Most of the Confederate dead were interred at Hollywood Cemetery in Richmond, Virginia in a special section set aside specifically for the casualties of Gettysburg."
We found out that Abraham Lincoln made his speech, The Gettysburg Address, near where the cemetery is now.
I recommend that you go to Gettysburg especially if you love history because it's a really good flashback on an important battle in the Civil War and you can almost feel like you're there in the Civil War. Plan at least a day and pack a picnic. It took us most of the day to enjoy the visitor's center and follow the driving tour of the battlefield and we didn't stop and look at most things, just a few. I want to go back again!
Below are some photos from my visit.
---