Marinated Cucumber Salad (in Swedish, Inlagd Gurka)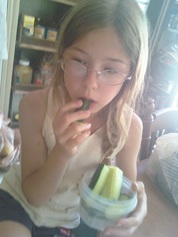 Maggie loves munching on raw cucumber, and that's pretty good, but I ate lots of cucumber salad the year I lived in Sweden so really appreciate MCFCSA Member Pam sharing this recipe she found
online
.
Ingredients:
1 cucumber
1/4 cup vinegar
1 Tbsp. lemon juice
2 Tbsp. sugar
2 tsp. salt
1/8 tsp. white pepper
1 tsp. celery seed
1/4 cup finely chopped onion (or 1 Tbsp. dehydrated onion)
2 Tbsp. finely chopped fresh parsley (or 1/2 Tbsp. dried parsley)
Pam says, "I added some thinly sliced kohlrabi and turnips along with cucumbers and those were delicious in the dressing as well."
When I lived in Sweden, it wasn't uncommon to also add thinly sliced radishes. In fact, probably anything would work from the garden this time of year that can be thinly sliced.
Preparation:
Wash and peel cucumber. Cut into paper-thin slices and place into a wide-mouthed jar or other covered container. Add the rest of the ingredients. Cover the jar and shake well until the sugar is dissolved. Marinate in the refrigerator for at least one hour before serving. If you have any left over, marinated cucumbers will keep in the refrigerator for up to a week.
---
Thunder and Lightning Salad
Thunder and Lightning pickles seem to be a staple on the farmstead, but here's a salad that's quick and easy and adds in some fresh tomato. Can't beat that! The recipe is from
Cooks.com
.
1/4 C vinegar (for the real thunder and lightning flavor, use cider vinegar)
1/4 C oil (they say vegetable, I say olive)
1/4 C sugar
2 C chopped tomatoes
1 chopped lg. onion
2 C chopped bell pepper
2 C sliced cucumbers
Chopped hot pepper to taste, if you like
Combine vinegar, oil, and sugar, mix well.
Add vegetables and mix well.
Chill until serving time.
Thunder and Lightening Pickles (Senf Gurken in German)

Might as well include this here. I came across this on a blog but it originated in someone's ancient 1942 cookbook. Glenn's been looking for a good recipe - this is a classic for dealing with the plethora of over-ripe cukes from a bumper year. I have no idea how long they keep because they don't last that long in our house.

6 1/2 lbs. yellow cucumbers, 4 to 5 large (any pickling type cucumber will work, though)

Brine:

3 pints water
2/3 cup pure granulated salt

2 to 4 sprigs fresh green dill blossoms
1 tablespoon fresh grated horseradish
2 pods red hot pepper, medium size (we use 2 large onions thinly sliced instead)

2 1/2 cups cider vinegar
2/3 cup water
3/4 cup sugar

Wash and pare cucumbers thinly. Cut in half lengthwise and scrape out seedy portion. Cut halves in thirds lengthwise, then cut in half crosswise. Put into glass or enamelware bowl.
Cover cucumbers with brine, cover and let stand overnight. Drain well.

Divide the dill, horseradish, peppers/onions between 2 sterlized quart jars.

Heat rest of ingredients (vinegar, water, sugar) to boiling, add cucumbers and simmer 5 minutes. Pack pickles into jars up to 1-inch of top.

Seal with glass or enamel-lined lids. (Love this one, since they can't be found easily. Read: lids and rings. Stick them in the fridge and enjoy until they're gone. Then make more.)
15-Minute Pickles
Technically, cucumbers are a variety of summer squash. They're the one summer squash, though, that typically isn't prepared the same as other summer squashes. Kind of like lettuce is a green but it's best not to boil it.
Glenn usually quarters this recipe to just have a jar in the fridge. I don't care for sweet pickles, myself, so a full batch lasts decades. Glenn also comments that he thinks it's better with a bit more of the allspice and cloves. This recipe comes from
The Hoosier Cookbook
, a favorite of Glenn's that he's had for centuries. (It's where the crazy crust cobbler recipe comes from, too!)
Ingredients:
4 qt. small cucumbers, sliced or chunked (the recipe calls for pickling cucumbers, but regular slicing cukes work fine for this recipe, too)
5 C. vinegar 1 t. cloves
5 C. sugar 1 t. allspice
3 C. water 3 t. salt
1 onion cut fine (or sliced, your choice)
Mix water, vinegar, sugar and salt in a pot. Put spices in a cloth bag, or just put in loose, and add. Bring to a boil. Add cucumbers and onion; boil hard for 5 min. Pour in hot jars and process in boiling water bath for 15 min.