Mulberry Creek CSA Food Preservation Bookshelf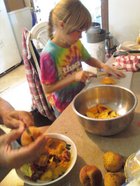 Real locavores learn early that being a locavore means eating seasonally ... unless you can figure out how to save stuff. There are basically four ways to preserve food: drying, pickling, canning, and freezing. Sometimes a combination is used. Many of the resources on the Kitchen Bookshelf page have information and/or recipes on keeping your locally produced fresh vegetables and fruits edible through the long winter months when most things won't grow. The books on this page are almost exclusively dedicated to the subject.
Be sure to visit our
Preservation
page.
---
Ball Blue Book Guide to Preserving


This is one of the most used books in our kitchen. Besides providing a wealth of information about how to preserve what, there are a number of recipes for yummy goodies. We made a delicious Cranberry Chutney from a recipe we found in this book in April one year from cranberries that had been in the back of the fridge since December. It's wonderful! The Blue Book is the number one must have for anyone interested in preserving food. And it's not as difficult or as dangerous as some make it out to be.


---
The Busy Person's Guide to Preserving Food by Janet Chadwick

This little book is a very good primer on basic preservation methods complete with illustrations. You can ignore the instructions in this one on how to shrink wrap perfectly good food.

The link will take you to the National Center for Home Food Preservation which is connected to this book and author only by topic. It's a pretty good site.


---
Home Cheese Making: Recipes for 75 Delicious Cheeses by Ricki Carroll

"This book covers everything the novice cheesemaker needs to know about making delicious cheese on the first try." Seriously. It's easy. And most of her recipes require ingredients you can buy at the grocery store. (Plus the necessary rennet and cultures.)

The link takes you to Ricki's website, The New England Cheesemaking Supply Company.

---
Charcuterie: The Craft of Salting, Smoking, and Curing by Michael Ruhlman & Brian Polcyn
"Without the faintest hint of apology, Ruhlman and Polcyn present an arsenal of recipes that take hours, and sometimes days, to prepare; are loaded with fat; and, if ill-prepared, can lead to botulism." Great introduction of a book that promises to reteach everyday folks how to do things our grandparents took for granted.


The link takes you to an article on Wikipedia that will explain what the heck this book is about.
---