"Free for the Eating"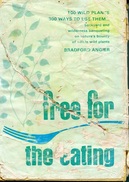 Dad's copy from the '60s
I really wasn't sure where to put this section. It's about wild foods and foraging so in one sense it ought to go in the Back Yard. But it's also about crops we harvest so it should go in Garden. But it also includes what to do with those wild crops so it has landed in the Kitchen under Recipes.

Free for the Eating and More Free for the Eating are a pair of books that have been on my dad's bookshelf since I can remember. Dad's undergraduate degree was in outdoor education so there have always been lots of resources and references around about wild foods and so forth. And when I was a kid Dad was always trying to feed us something he'd found out in the woods.

When we moved back to Glenn's family farm and I learned about the bounty of free food to be had, I immediately called Dad and said, "Do you still have those two books and can I have them?" The answer to both questions was "yes" so here we are.

---
Bradford Angier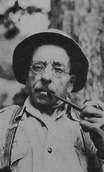 Bradford Angier
was a lesser known Euell Gibbons type. I really can't see him doing Grape Nuts commercials. But he wrote these two books and several others back in the 1950s and 1960s and really lived this life. While you can still get some of his
books
, these two are out of print, now, but they're a treasure trove of great information and tips. Every now and then I'll get a chance to add a section of one of them to this section of the site, especially when we include wild foods in our shares. (Wild foods are things that grow around here and you won't find in supermarkets or even typically at farmer's markets. Most people call them weeds.)
---
Eating Weeds?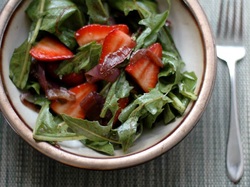 Someone else's dandelion green salad
Here's the thing about weeds. (And, no, I'm not talking about that plant that it is now legal to consume in some states but not as yet in this country. Go ahead. Wrap your brain around that one.)
By definition
, a weed is a valueless plant growing wild. More simply put, a weed is a plant growing where you don't want it. Maggie will tell you that a rose bush growing in a corn field is a weed. A strawberry plant growing in the rose garden is a weed. So just because something is a weed in one place doesn't automatically make it a weed in
every
place. Except Poison Ivy. In my book, that's a weed no matter where it's growing.
One of the real losses in the era of "Better Living Through Chemistry" (AKA dump one chemical on the ground to kill the "valueless plants" (weeds), then dump another chemical on the ground to enable the seeds you want to plant to grow, then dump another chemical on the plants to kill the bugs that are crawling on them, and you never stop), anyway, one of the real losses is in being able to identify edible wild plants, let alone know what to do with them. Far from valueless, many of these wild plants have tremendous value not only to humans but also to wild critters who depend on them for food. Many "weeds" are high in vitamins, antioxidants, and lots of other "good for you" kinds of things. And if you pick them in the right place, they have far less chemical saturating them than your average grocery store salad fixings. And a lot of them are just great tasting, to boot.
---
Bradford Says:
No matter where you live, [wild foods] will keep right on guaranteeing you some of the best eating there is - plus the continued incentive to get outdoors where the really healthy appetites are born.

In almost any rural or suburban neighborhood you will find within a few minutes of home far more wild edibles than you can eat. There is no need to venture into the deep woods. In fact you'll find more wild foods around vacant buildings, deserted farms, old pastures, fields, walls and fences open hillsides, the edges of woodlands, marshes, streams, lakes and ponds, burned-over sections, along roads, and in your own yard. In large and small cities, vacant lots will yield a surprising harvest.

With countless pesticides gradually poisoning the cultivated areas of North America, it's both healthful and pleasant to go into the open place and gather undefiled foods from Nature's own pure garden. Too, these wild delicacies have been uncontaminated by the dozens of human hands that handle and re-handle the fruits and vegetables sold by markets.

Further thoughts:
Of course, in the almost 4 decades since this was published, chemical use has become so wide-spread that it is difficult, indeed, to find anything growing at all that hasn't been contaminated by something.

It is also true that the number and variety of wild plants that are potentially harmful has grown as wild plants adapt to chemical use and spread to new areas by traveling via bird, mouse, or someone else's bag of seeds. There are wild plants growing here on the farm that weren't here a decade ago. No longer can most people just ask Aunt Tessie if something is safe to eat or how to tell the difference between the edible variety and it's non-edible neighbor.

Therefore, I'm trying to stick with wild plants that are easily identified. Like dandelion greens.