Identifying and Using Greens

I can't do better than the folks at Epicurious! Click on the link on the photo to the left and it will take you to an excellent source.

---
Spinach (or any other greens) Pie


Wondering what to do with kale, turnip greens, cabbage, chard, or even broccoli or beet greens?

Pre-heat oven to 350º F

Cook, drain, chop finely 2 quarts fresh spinach or greens of day
1 onion: saute in 2 Tbsp oil
Combine:
spinach (greens)
sauteed onion
1/4 tsp nutmeg,
1 tsp oregano
1/2 tsp salt
2 beaten eggs
1 cup grated swiss or fave cheese.
Pour into pie shell. Arrange top crust and seal.
Bake 30-40 min. at 350º F.

Options: Diced ham, chicken or turkey.
If you're adventurous, mix in some chopped (sauteed or pre-steamed) zucchini, squash, carrots, broccoli, cauliflower, green (or other) peppers and/or mushrooms.
Garlic and/or black pepper? Cumin or curry?

Serve hot, in pie wedges.


---
Roasted Kale with Sea Salt


Of course, any firm leafy green works fine in this recipe. Collard greens or swiss chard could easily be substituted for the kale.
Preheat oven to 375º F.
4 cups firmly-packed kale
1 Tbsp. extra virgin olive oil
1 tsp. good-quality sea salt, such as Maldon or Cyprus Flake
Wash and trim the kale: Peel off the tough stems by folding the kale leaves in half like a book and stripping the stems off. Toss with extra virgin olive oil. Roast for five minutes. Turn kale over. Roast another 7 to 10 minutes until kale turns brown and becomes paper thin and brittle. Remove from oven and sprinkle with sea salt. Serve immediately.
Makes 2 servings.
(Thanks to Judy Shell, MCFCSA member, for sending this link. Read more about:
Kale
)
---
Creamed Kale (Greens)
This isn't as funky as the title might make it sound. It's kind of like soup, actually.


Boil water and cook coarsley chopped, stems removed, Kale in the water for 7 minutes. Then plunge in ice water to stop the cooking.

Cook potatoes in cream (or milk) until soft.

Put them together! Salt and pepper.

Some people run the potatoes and kale together in a food processor to make them creamy. I combined them and used a potato masher to get everything just a little smoother.

(thanks to Ohio MCFCSA Member Christa Novicki who came to pick up her share on her bicycle. Imagine watermelon season.)

Creamy Broccoli or Greens Soup


Creamy Broccoli Soup

2 T butter
1 C finely chopped onion (2 onions)
3 cloves garlic, minced
1 1/2 t. basil
2 t. thyme
6 C chopped broccoli (1 lg head, including some leaves, leaving a few
florets whole)
4 C water or vegetable stock
1 C heavy cream
4 T unbleached white flour
1 t. salt
Freshly ground salt and black pepper or cayenne pepper to taste

In a lg dutch oven or soup pot, heat butter on med heat. When hot, add
onions, garlic, basil, and thyme. When onions begin to brown, add broccoli. Saute until tender; don't overcook. Remove from heat. Add 3 cups water or stock to pot, then blend about half the soup until smooth. If mixture is too liquidy in the blender, it will try to jump out, in which case drain some of the excess liquid back into the soup. Pour pureed mix back into soup pot and add remaining water or stock.

In a small bowl, mix the cream and flour and stir until smooth and
lumps are gone. Begin to heat soup again on low heat and add the cream-flour mixture. Then add salt and pepper to taste. Don't allow to boil. Simmer
uncovered 30 minutes more and serrve.

Creamy Greens Soup
Substitute 10 C packed raw spinach or other greens for broccoli.
Follow instructions above, adding 1 T lemon juice at the end.

(taken from Horn of the Moon Cookbook by Ginny Callan - an awesome resource for tasty, healthy recipes using fresh produce. You can get it from Amazon.)


---
Cooking with Turnips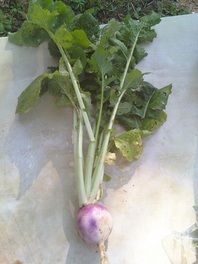 First, the greens are delicious. Clean them and use them like spinach.

The fruit of the turnip is little known these days but is worth giving a try. Turnips are a lot like potatoes in substance and many people just eat them mashed – there are a plethora of mashed turnip recipes online – but Glenn loves them peeled and fresh – try slicing them into your salad or stir fry.

Go ahead and try turnip salad (instead of potato salad – get it?) or turnip slaw. Just use your favorite potato salad or coleslaw recipe and substitute turnips for potatoes or cabbage.

Or chunk them, dip them in your favorite seasoning and roast them or fry them like potatoes.


---
Turnip Slaw


(Alternatively you can use your favorite slaw recipe and substitute turnips for cabbage.)
3 c. shredded turnips (the bulbs, not the greens)
1 1/2 c. shredded carrots
1/2-3/4 c. slaw dressing, mayonnaise or salad dressing (AKA Miracle Whip)
1 tbsp. lemon juice (optional)
Your choice of herbs, salt & pepper to taste

Combine well. Cover and chill. Makes 6-8 servings.
Options: Add raisins, chopped green/red peppers, chopped onions, other vegetables of your choice.

---