Cooking with Herbs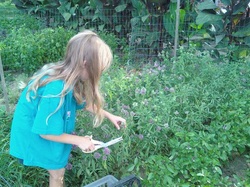 I discovered the delights of using herbs about the time we started the CSA. Up to that point, I used them if the recipe said to but not much more than that. Now I put herbs in practically everything! My personal favorite is Rosemary.

My vision is to have an herb garden labyrinth. We know where it will go, but there are too many other things that are higher on the priority list so they're just in a section of the garden for now. In the meantime, I'm still learning and doing some habit reforming (I'm not that great at using fresh herbs yet) and welcome the insights and experiences of others.

Check out the sidebar drop down menu for some excellent tips on what herbs go well with what, a few recipes focusing on herbs, and a fun little bit on the language of herbs.
---