Homemade Vegetable Wash/Preserver (Spray or Soak)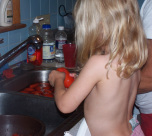 My cousin introduced me to "Veggie Wash" a few years ago and I use the stuff, or one of it's sisters, on practically everything. (I've even been known to clean the table with it.) The problem is the stuff in the store, regardless of brand or name, might require taking out another mortgage to keep in stock for the amount of produce we have to wash every year. Never fear! I found this recipe on
Foods.com
and am delighted to share it with you.
The gal who posted it says, "this really works and works very well! No chemicals, 100% natural, and will remove dust and dirt (and frog pee no doubt) and kill any little bugs and bacteria, not to mention it costs only pennies to make. And when used as a soak it will help preserve your veggies so that they will last quite a lot longer. ... Because of the fresh lemon juice any unused spray may be refrigerated until used again. The exact amounts don't really matter; a little more will not hurt, I really don't even bother to measure I just eyeball everything." (I love recipes that call for a sploosh of this and a slosh of that!)
Ingredients
SPRAY

1 tablespoon fresh lemon juice
1 tablespoon baking soda
1 cup water

SOAK

1/4 cup vinegar
2 tablespoons salt
Directions
For the spray: put all ingredients into a spray bottle (be careful as it will foam up) shake gently to mix, then spray on veggies or fruit allow to sit for about 2-5 minutes then rinse under cold water. (I either put my fruit/veggies in a colander then spray, then swoosh the bowl around a bit before I rinse, or, for leafy stuff, I gently rub the leaves together before rinsing.)
For soak: fill a clean sink or a large basin with cold water; add in vinegar and salt, then swish around with hands (you may also do this in a large bowl).
Place the fruit and/or veggies in and allow to sit for 25-30 minutes although I have even left soaking for over an hour (this will not effect the flavor at all, the vinegar cleans and the salt draws out any little bugs, dirt and other small unwanted things, it also will remove some of the wax. (I don't recommend the soak method for anything very delicate.)
Rinse under cold water and dry.
---