Maggie's 2011 Mini-4-H Projects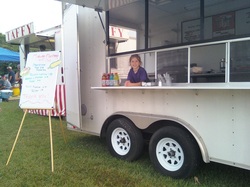 I got to take 6 projects in 2011! It was a lot of fun.

I also had my first experience working in our club booth selling loaded nachos and cheesecake on a stick. Mom says it's not the fair unless you can get something unhealthy on a stick!

In Mini-4-H every project gets a blue ribbon.
---
Abraham Lincoln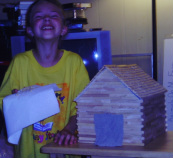 My finished cabin.
I made a cabin with Dad out of popsicle sticks.
---
Farm Animals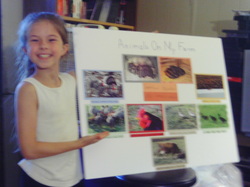 My finished poster!
I made a poster showing animals on our farm. We have a lot of other animals, too, but I ran out of room on the poster. I can put their pictures here!
---
Foods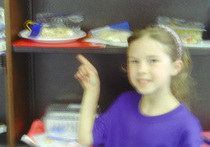 Those are marshmallow treats!
I made marshmallow treats with Mom. For some reason we didn't take any photos of me making them, just this blurry one with the ribbon at the fair.
---
Gardening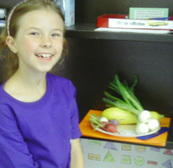 My gardening exhibit with a blue ribbon!
I do a lot in our gardens at home but we didn't take many pictures for my project. Here I am with my onions, radishes, and squash at the fair with their blue ribbon. The squash and radishes were pretty yukky by the end of the fair and we fed them to the pigs!
---
My Pets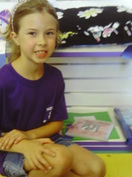 My Pets scrapbook.
We have a lot of animals, but my special pet is my kitty cat, Anna. I made a scrapbook of her and me. Here I am with it and the blue ribbon.

Below are some of the photos I used in my scrapbook. Underneath are some other pictures of Anna.
---
Sewing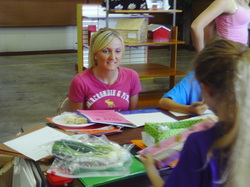 My sewing kit being judged.
I love to sew! I did a mini-mini-sewing project in 2010 to practice for Mini-Sewing! Then I made a sewing kit for my Mini-4-H project. I even demonstrated it at a club meeting!

I don't really have a photo of me with my sewing kit with the blue ribbon, but up at the top of this page in my Abraham Lincoln ribbon photo, you can also see my sewing kit on the top shelf.
---