Mulefoot Hog at County Fair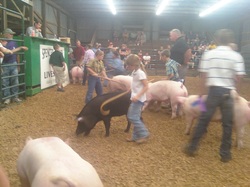 Here's the story, as told by Mom June 25, 2012, Spencer County, Indiana. (We'll see if Maggie will tell her version of the story at some point, too!)

---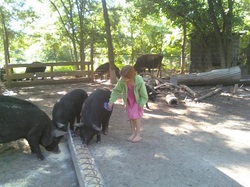 Maggie, who is 9 and a first year "regular" 4-Her (3 years in Cloverbud/Mini-4-H) wanted to do the swine project. We have Mulefoots. Maggie wanted to take a pig to the fair and we did too.

We've seen and heard lots of stories about people trying to get a heritage breeds class going with no luck. We didn't even try to go that route. We simply had a discussion with our county extension 4-H guy about how we could get one of our hogs into the fair, somehow. He reviewed the rules and said that Maggie could enter a hog as a market gilt because there was no breed requirement there - she'd be considered a "cross".

Whatever. We'd get one of our hogs in front of the public. That's what mattered. So Maggie did this project knowing her market gilt would be competing against commercial hogs, knowing that her gilt would be underweight (rules are that the pig has to be from a litter since January and weigh at least 220lbs), knowing she would get a red ribbon for not meeting the eligibility requirements (weight). But Maggie is our girl - she knows that it's more important to get this pig out there and seen than it is to win an award. (She also wanted to take more than one pig but we thought one was enough for her to deal with for her first year.)

---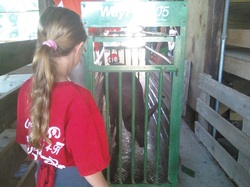 Her gilt weighed in at 160lbs, perfect by Mulefoot breed standard for her age. (Truth be told, she's a bit on the chunky side!)

---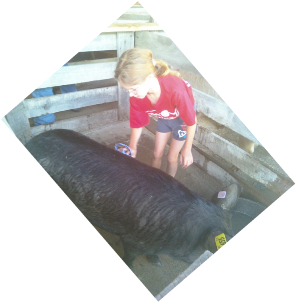 When the folks came around to get Maggie and her pig established in her pen and write up her ID sign, we said the breed was American Mulefoot. All the pig farmers there, every last one, said, "Never heard of it." We said, "Look at her feet." They all said variations on "Well, I'll be darned!" And then they'd want to know all about it. WIN!

---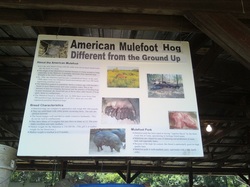 Several of the hog farmers, and I mean several, commented that the judge or announcer should say something in the ring about this pig. The extension guys agreed. WIN! (That didn't happen, but the fact that a bunch of folks think it should goes a long way.)

That little pig has been the talk of the pig barn and many people at the fair have commented to Maggie that they've been to see her pig. WIN!

We made a poster to hang above the gilt's stall about Mulefoot Hogs and the supremacy of Mulefoot pork (thanks to the AMHA for some of the info and Maveric Heritage Ranch for one photo). No idea how many people have looked at it, but some have and every time we've been at Maggie's pen, people have stopped to ask questions. WIN!

We also met another family there who has heritage or old style type hogs - there are two old style Durocs and an Old Spots cross. They over-fed their hogs to get them to meet weight. But they also would like to see a heritage breeds class and between us we have enough hogs to have it. There are surely others with old style or heritage hogs around or others who would be interested in such a thing.

---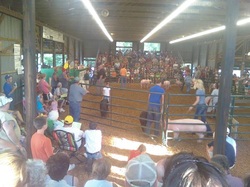 Last night was the swine judging (that's here there in the white shirt). There were 6 classes of market gilts, 32 pigs ranging in size from 160 lbs (Maggie's) to 289 lbs. There were 7 in Maggie's class. She placed 7th. BUT she received a blue ribbon, along with everyone else. In case you don't know, a blue ribbon simply means you met the requirements. Maggie's pig, and one other, were under weight. But they gave them both blue ribbons anyway. (It turns out that it was an error and should have been a red ribbon but they won't take the blue away. And when I told Maggie what had happened, she just shrugged her shoulders. She's a trooper!)

Here's something, though: Glenn told me that prior to the class, during the pre-show briefing, our county extension guys talked with all the kids about how Maggie is determined to show this pig in spite of it not meeting requirements and that she's more invested in her breed than in an award. WIN!

When the judge announced Maggie's placing, he said it was a very nice looking gilt, very nice form, etc etc but he'd like to see more muscle mass on her. I don't think he even noticed her feet. If he did, he never said anything, which is a fail as far as I'm concerned, but he wasn't looking at their feet or their legs or their face or anything else - just meat potential. He did say she was a nice looking gilt, nice form, and didn't say anything really about her being too small, which is a win as far as I'm concerned.

---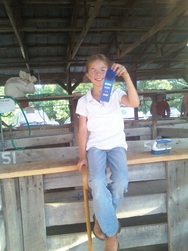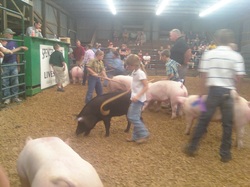 Maggie got a blue ribbon in showmanship (she's holding it in this photo). All the kids did. There were 12 kids in the beginner showmanship class, one got champion and one got reserve champion, everyone else got blue ribbons, so our girl got that pig out in front of a crowd again, in with 10 commercial hogs and one over-fed old-style hog and shined.


I will say this: seeing that little gilt out there next to those commercial hogs, 55 lbs lighter than the next biggest pig, she compared nicely. It was obvious - she has a lighter frame, finer bone structure. She'll bring more meat per lb than those boney commercial pigs and you and I all know it will be meat that's far superior.

---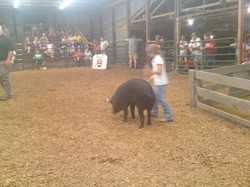 So the situation is this: an American Mulefoot hog has been shown at a county fair in Indiana. People have stopped to ask about it. Interest has been shown. The breed standard is in the hands of the county extension. I don't know whether or not there will be a heritage breeds class next year or any time soon but there's some recognition that there should be one at least in this county. Even if Maggie had gotten no ribbon at all at this fair, I'd say that little gilt of hers has won some serious awards!

Our livestock auction is tomorrow evening at 6pm. Maggie will take her gilt into the ring again - perhaps this time much will be made of "the little gilt with the funny feet". Perhaps someone will be intrigued by our claims at superior meat. Perhaps someone will buy that pig, eat her, and want more. We can hope. I'd call that a major WIN!


Maggie is already making plans to bring a gilt and a barrow to next year's fair!
---
2013 Hogs at County Fair by Maggie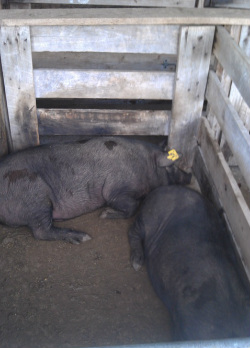 Yeah yeah I took two this year but what's the big deal? They looked almost identical to the one I took last year but that is the way it is. They were three totally different pigs but our breed is like that. Almost all our pigs look the same. How do we tell them apart? We memorize different characteristics of the different pigs and we know how to tell them apart.
Ok MY pigs. I named them, of course. ( for an animal to be an animal it has to have a name.) They were named Harry and Hermione even though I should have named them bacon and sausage. It was the same judge as last year so both got blue ribbons. There was an underweight class that had about three pigs in it that were underweight. I got a blue in showmanship and did really well. They were awesome pigs.

---