The entire book may be reached
here
.
from Productive Swine Husbandry by George E. Day (1913)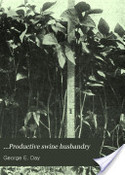 CHAPTER XVII. - THREE MINOR BREEDS.

Three breeds of minor importance in America are the Mule-foot hog, Large Black Pig, and the Middle White or Middle Yorkshire.

MULE-FOOT HOG.

Description.—A marked peculiarity of the Mule-foot hog is its solid hoof, and from this peculiar feature the breed takes its name. In general conformation, it is claimed that the Mule-foot hog is between the fat type and the bacon type, but it is not noted for great length of side.

The color is black, but white points are admissible. More white than black is a disqualification, and any considerable amount of white is regarded as objectionable.

Origin and History.—The National Mule-foot Hog Record Association, which has its office in Indianapolis, has issued the following statement: "Up to the present date, the Mulefoot hog is a hog without an authentic history. Rumors and reports offer Denmark, Holland, South Africa, Mexico, South America, and the Sandwich Islands as the country of his birth. . . . Reports are so contradictory that this Association cannot, without further research, endorse any of them. Every effort will be made by the Association to discover the origin of the Mule-foot hog, and to furnish its friends with a true and complete history."

Distribution.—So far, animals of this breed are not numerous nor widely distributed. Indiana, Missouri, Arkansas, Texas, and Louisiana are probably the principal states for the breed, but the breed is not Largely represented in any state as yet.

Utility.—The National Mule-foot Hog Record Association makes the following claims for the breed:

"As to the special qualifications and fine points of the Mule-foot hog, we know it to have greater vitality than any other breed in the United States. We have never known a full-blood Mule-foot hog to have hog cholera. It is an easy feeder, develops early and rapidly, is in strong demand on the market at a premium. . . . The sows are good, gentle mothers and raise large litters of pigs, which, if turned out, will hustle for a living, or they will grow fat and thrive, paying big returns, under good care and attention."

It must be remembered that the claims set forth above are made by admirers of the breed. So far as can be learned, these claims have not been tested by independent investigators.

---