Favorite Recipes of Ours and Our Friends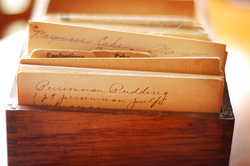 We intend to regularly add recipes for items in the CSA share boxes, especially the more unusual items. If you have a favorite you'd like to share, pass it along and, as long as it fits, I'll post it here. In our ongoing quest for freedom from MSG, HFCS, and way too much salt, we'll be looking for and posting healthier ways to make your own mixes and seasonings, too.
I'll try to add recipes under categories that seem to make sense. If you can't find what you're looking for, there's a nifty search engine on the Front Porch (home pate). If you still can't find it, drop me a line and I'll see what I can do.
By the way, please check out the cookbooks on our
bookshelf
!
---
Converting Recipes for Your Slow Cooker

I love my slow-cooker but I also love those old standard favorite recipes involving the oven. Then I discovered this secret from
Taste of Home
!
You can convert almost any stovetop or oven recipe to use in your slow cooker. Here's how:

1. Read the manufacturer's guide for your slow cooker
(if you hae one - I don't, so it's guesswork).
2. Find a slow-cooker recipe that's similar to the one you want to convert and use it as a guide. Note the amount and size of meat and vegetables, heat setting, cooking time, and the amount of liquid.3. Slow cookers don't allow for evaporation, so you may need to adjust the amount of liquid. If the guide recipe calls for 6-8 cups of water, start with 5 cups. If a recipe doesn't include liquid, add 1/2 cup of water or broth.4. One hour of simmering or baking at 350F equals 8-10 hours on low or 4-6 hours on high. See the chart.5. Flour and cornstarch can be used to thicken soups, stews, and sauces that are cooked in a slow cooker.
Like a lot of aspects of cooking, you'll get the feel for converting a recipe for your slow cooker after a while. Just remember, like ovens, not all slow cookers are alike.
---

Below are a few other sites that we think have some great recipes. What's your favorite?

---

"Welcome to Sustainable Kitchen, our section devoted to tantalizing recipes, sustainable cookbook reviews, cooking tips, and feature articles on sustainable food and cooking."


---