Grass-Fed Beef Recipes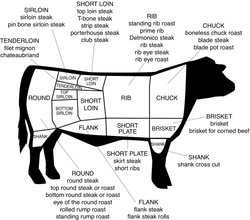 Just switching from CAFO beef to grass-fed? You may notice a slight difference in flavor or texture; some people do, some people don't. If that difference is too distracting for you, try transitioning first to heavily seasoned dishes like chili or stew. You might wait a bit before you slap that steak on the grill until your taste buds have acclimated. By the way, this tip goes for any kind of meat switch.
The basic rule is that you can still use the recipes you have been using, but you may need to alter them somewhat. Here is an exceptional article on the basic differences between grass-fed and grain-finished beef. And here is a great tip sheet on how to make those alterations in your favorite recipes.
Don't miss our own Copperhead Hill Farm page for the difference between grass-fed and grain-fed beef.
---
Other Sites to Visit
for grass-fed cut descriptions, tips, recipes, and so forth.