What Do I Do With Okra?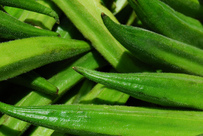 Okra is a thing like, oh, persimmons. If you didn't grow up eating it, you may not even know what it is, let alone know what to do with it. Unless you've frequented one of those all you can eat buffet places that has fried okra on one of the steam tables. Even then, you still may not know what it is. (Glenn loves these opportunities because they're about the only time he gets fried okra.)

So if you're still reading this and you're from the south, congratulations, now please go back to shelling your black-eyed peas. However, if you're one of the countless many who, like me not long ago, who are flummoxed, stick with me.

As always, you can Google okra recipes or check out your favorite recipe website, but I'll toss our hat in the ring with what we do. Some people can't get enough stewed okra and tomatoes, others prefer it battered and deep fried or pickled. Me? The only way I'll eat it is grilled and, let me tell you, I've found this to be DE-lishus. One of our shareholders in Ohio passed this tip on to us - I'd give credit if I could remember who it was!


For other classic recipes (stewed, fried, pickled, etc) please Google ;)

---
Grilled Okra
Fresh Okra
Olive Oil
Seasoning Salt (or your choice of seasoning)

Wash off your fresh okra and pat it dry. You can cut the stem ends off if you want to - we never do.
Lightly rub olive oil on each pod covering it completely. Some people prefer to toss the pods in the oil.
Dust the pods with a bit of seasoning (salt, herbs, your choice. We often use Lawry's seasoned salt.)
Skewer the pods crosswise, right through the middle. Or, if you have a veggie grilling rack or basket, use that.
Grill them, turning once, until the color is more pronounced and the edges start to char. About 5 mins on each side.