What's A CSA?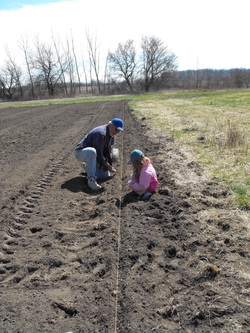 Planting spring garden peas
CSA stands for Community Supported Agriculture and embraces the philosophy of communities supporting farms and farms their communities. The farm becomes, spiritually, the community's farm, with the growers and consumers providing mutual support and sharing the risks and benefits of food production.

Typically, members or "share-holders" of the farm pledge in advance to cover the anticipated costs of the farm operation. In return, they receive shares in the farm's bounty throughout the growing season, as well as satisfaction gained from reconnecting to the land and participating directly in food production. Members also share in the risks of farming, including poor harvests due to unfavorable weather or pests.

By sales to community members, who have provided the farmer with working capital in advance, growers receive better prices for their crops, gain some financial security, and are relieved of much of the burden of marketing.

In our opinion, a true CSA is a destination market - the customer comes to the farm and has a working knowledge of the farm, often participating in the work to varying degrees. To us, the 'C' is important - community. It cannot be a community if the citizens of that community never come into contact with one another or the farm/farmers.

Because we understand it isn't practical for some people to visit the farm every week, we at Mulberry Creek CSA do offer drop-off locations in addition to the farm but we encourage all shareholders to visit the farm from time to time to see their produce in its natural habitat. This year we are planning two different weeks when share pick-ups will be only at the farm, on Saturday, and we will have a cookout or picnic! We'll let you know the two dates in plenty of advance.

---
How Farmers Benefit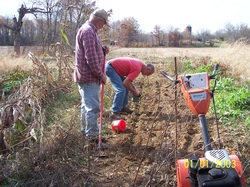 Help with fall garlic planting
By supporting local farmers directly, you eliminate the middle person, thereby moving agriculture towards a livable wage. Having share money up-front, early in the season, prevents the growers from having to borrow money to pay wages or purchase supplies since your fee helps to pay for the costs of running the farm. In return, the farm provides a weekly supply of produce during the season. This relationship guarantees small farmers a secure market for their produce and minimizes the risks involved in farming.

Unlike many farms (organic or otherwise), Mulberry Creek CSA has never had to take out spring loans to cover the costs of buying seeds, repairing equipment, etc. That is directly due to upfront payments from CSA members and means that farm income can be spent on crops and other farm needs and not interest payments.

The CSA model provides the farmer with market security throughout the season. Farmers relying on wholesale markets may find that their broccoli, for instance, is worth substantially less in September than they budgeted for in January. Those selling at farmers markets may find that weather or special events may cut weekly sales in half during the height of the season. Having a predictable market for a variety of crops makes planning straightforward (for planting, crop rotations, etc.) which gives us room to manage the unpredictable aspects of farming (like the weather).

We would be liars if we also didn't admit that direct contact with our members saves us during the season. Farming is incredibly hard, non-financially rewarding work. It is crucial for us to interact with our members on a weekly basis and reap the rewards of our business through your friendly faces, positive comments and useful suggestions. In the casual atmosphere of the pick-up site, members learn more about life on the farm, food preparation, planting cycles and pest management. We, in turn, learn more about teaching, birdwatching, homeschooling, cheesemaking, life on a military base, and so forth.

---
How The Members Benefit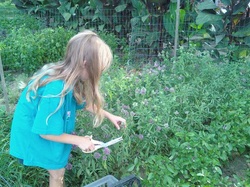 Share day harvesting
While CSA helps farmers, it also serves members, who receive a season's supply of fresh, healthy produce. Much of the produce we provide during the summer season is picked the same day as distribution. Food purchased in the grocery store, on the other hand is often picked under-ripe so it can survive the many days it may spend on a truck to travel across the country (or, indeed, from another country) before it is put out on the shelf for purchase.
CSA members have the security of knowing that their food was grown using sustainable methods and that fewer natural resources were needed to transport the produce.
Finally, CSA provides members a tangible connection to the land through a farm and the satisfaction of contributing to the health of the local community. Members are welcome to come see the farm and its operations during share pick-up, at a farm event, or just by giving us a call.
So the bottom line benefits for you are:
Know your farmers: Picking up your produce directly from the farmers who grew it allows you to interact with the farmers on a regular basis. Children and adults learn to see the connection to their food source and to the cycles of the growing season. We are always happy to answer any questions, concerns, or just to shoot the breeze.


Get a Full-Service Operation: Our produce is harvested, washed (when appropriate), sorted and packed for you. We try to arrange our pick-up locations to be convenient and not too far out of your way. On your walk, bike, or drive home, just pull over and pack your bounty. If you don't know what to do with something when you get home, just give us a call or drop an e-mail. We're happy to answer questions and share tips. (We've even been known to keep a few likes and dislikes in mind when packing shares!)


Freshness Counts: At Mulberry Creek CSA, our fruits and veggies are typically picked fewer than 36 hours before you lay your hands on them (often fewer than 12). This short period from the garden to your hands, guarantees fresh, ripe taste and crispness, unmatchable by stores. We're also careful with your yummies. We've fallen victim to careless check-out clerks who drop the apples, put the potatoes on top of the tomatoes and the lettuce in with the frozen foods. Rest assured, we treat your food the way we treat ours.
Money Talks: We've been told members' dollars purchase 15-40% more produce than they could at local stores.
---
How the Environment Benefits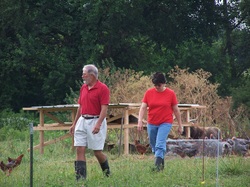 Chickens free to roam
Both the farmers and members can easily see the environmental benefits of a CSA.
Locally grown produce is distributed with minimal waste of fossil fuels.


Knowing ahead of time exactly how much to harvest minimizes food waste. Even fresh locally grown food at farmers' markets may go to waste if not enough people show up to buy any given day.


Sustainable growing methods improve soil fertility, thus assuring sustainable crops for years to come. By not using any synthetic pesticides or herbicides, the soil remains 'alive' with vital microbes that promote plant growth, thereby eliminating the need for synthetic fertilizers.


Supporting a sustainable farm in your community makes you a steward of your local land. No herbicides on the land means no chance of them sneaking into our water supply. You can sleep well at night knowing that the food you eat is helping to make the Ohio River watershed more healthy for all its occupants.


---
So What's the Catch?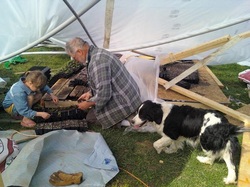 A farmer's nightmare!
Joining a CSA means making a commitment to the process. You receive super fresh food at a discounted price. In return, you agree to endure certain limitations:
Limited hours of pick-up: CSA's can not offer the convenience of grocery-store hours. Sometimes convenience comes at the cost of quality. To keep food fresh, Mulberry Creek Farm limits its pick-up hours. Members need to arrange to pick-up your produce during that time. To make it easier, members can arrange to have a friend, family member or neighbor pick up for them. Failing that, you can come to the farm within a day or two of your pick-up (recognizing that your share will not be as fresh) or you can simply forfeit your share. We make sure that food is not wasted.


Seasonability: Becoming a member also means that you agree to eat food that can be grown locally at that time of year. We can, however, offer vegetables replete with the splendors that in-season, local, organic produce possesses.


Exact specifications: Along with limits on what is available when, you may also not be able to get the exact portions you desire of a certain item. CSAs work because they are convenient, not perfect. Portions, based on that day's harvest, are an approximation of what the 'average' shareholder will want. Since no one is truly 'average,' we offer choices whenever we can. Some members even enjoy the challenge of learning to live within the limits of that week's bounty.


Risk: The members agree to assume all the risks that the farmers do. The farmer is growing for you. If the weather does not cooperate and a crop fails, or is greatly reduced in yield, if our seed supplier sends us non-viable seeds and nothing grows, if it's so hot that all the lettuce bolts, members will feel it. In fact, many of these things have happened at some level on Mulberry Creek Farm. In 2010, for instance, the greenhouse blew down not once but three times in severe early spring wind storms and we lost a number of bedding sets and others got so mixed together we didn't know what was what. Then in June the weather got so hot so fast that all of our greens (spinach, lettuces, kale, etc) except one variety of lettuce bolted before we could even harvest. Then the turkeys ate all the cilantro seedlings as they came up. Just about the time were trying to finish planting our fall crops, it started raining and didn't stop until time to plant was well past so we only got about half our varieties of winter squash and melons planted. In mid-summer we had an outbreak of cabbage worms that nearly destroyed the cabbage crop. All the early heat and rain turns out to have been great for one crop: weeds. We couldn't keep up with them. The crops we had planted in the 4 acres we rented (that had been commercially farmed for so long there was no nutrient left) refused to grow. Then in late summer it dried up and we nearly lost several crops because it got so dry. The nice thing is, even though that was only last year, if you ask our members, most of them won't remember. After all was said and done, however, 2010 members didn't suffer too badly. It's true, they didn't get a lot of some things that would have normally been bounteous. But they did end up getting what they paid for and that's not too bad of a risk.
The photo above shows our second greenhouse at the old farm after it got demolished in a windstorm not long after we erected it, sending hundreds of seedlings in flats crashing to the ground. It was a mess. We never did re-identify all the tomato varieties afterwards. Fortunately for shareholders, what was a disaster for us didn't impact shares all that much.
The truth is that our farm is so diversified that some crops will always do well in conditions that other crops hate. Even though the idea of a CSA is that you agree to take the risk with us, so far the risks have proven to be quite minimal and CSAs with a lot more longevity than we have say the same thing.
---