Zucchini and Summer Squash Recipes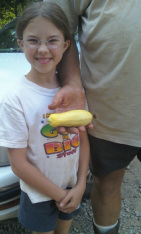 First one of the season!
If you're overloaded with zucchini and summer squash and wondering what to do with it all (besides enjoying it sauteed, breaded and fried, raw in salad or on it's own, stuffed and baked, in bread, on kabobs, in parmesan, etc) here are some tips:

• Make zucchini bread! (You can also use summer squash in addition to or instead of zucchini.) Most cookbooks have a good recipe.

• Freeze it for use this winter. We love to sauté a bit of frozen summer squash or zucchini with some onion and herbs for a wonderful side-dish when the snow is thick on the ground. To freeze, just wash off the outside of the fruit, cut off the ends, cut the fruit into bite sized pieces, blanch for three minutes, put them in plastic freezer boxes, label and freeze. Alternatively, you can grate it for use in zucchini bread later but you'll only want to blanch this for about a minute and a half. Then when you thaw it out, reserve the liquid before you add the fruit to the recipe.
---

Here's a
link
to some awesome seasonal recipes, several of which involve zucchini (any summer squash can be substituted in most of the recipes). Open the different recipes up to see what's in them - they're all in .pdf so are easily printable. I've added many of them to our "Favorite Recipes" notebook.
---
Almond and Zucchini Soup


1 cup whole almonds
2 medium zucchini (yellow squash should work fine, too)
4 cloves garlic
2 T butter (I used olive oil)
4 cups basic chicken or vegetable broth
1/2 cup dry white wine
1/2 cup cream (I used plain Greek yogurt.)
salt & pepper
3-4 slices bacon (optional)

1. Preheat oven to 275 degrees. Place the almonds in a single layer on a baking sheet. Bake them for about 20 minutes, until you can smell the roasted aroma. Set them aside to cool.

2. Meanwhile, cook the bacon and set it aside to drain on paper towels. Grate the zucchini (I just cut up, didn't grate since it all goes in the blender later.)and mince the garlic. Rub the almonds in a dry dishtowel to remove the skins; then grind the almonds in a food processor. (The almonds I had were already sliced. I put them in the oven for 15. Did not do the dishtowel thing. Used a blender to grind them. All was well! )

3. In a soup pot, melt the butter on medium. Stir in the zucchini and garlic and cook for 5 minutes, stirring almost constantly. Pour in the broth and the wine and simmer, uncovered, for 15 minutes. Stir in the almonds and remove from heat.

4. Allow the soup to cool slightly. In a blender or food process, puree the mixture and then put it back into the soup pot. Stir in the cream and add salt to taste. Reheat gently but thoroughly; do not allow it to boil. Crumble the bacon. Garnish each serving with a sprinkling of freshly ground black pepper and the crumbled bacon.

(Thanks to MCFCSA Ohio member Connie Gilhooly)
---
Gail's Stuffed Zucchini

First, you need a good sized zucchini for this recipe. Those under-developed tender sweet young things they sell in the grocery store won't cut it. Especially later in the summer, many farms have an over abundance of large zucchini and are happy to find homes for them.

Preheat the oven to 350º F.

Brown a pound or so of burger, add a chopped onion and/or pepper (both optional) to the burger as it's browning. (You'll find there aren't many measurements in this recipe. Do what seems good to you. But I'll jot what I do for those of you who prefer to have some idea to start with.) I don't use any pepper myself, but I chop up a half to whole onion depending on the size of the onion. I like my onion in itsy bitsy pieces (my 9-year-old is more likely to eat it that way, for one thing).

While the burger is browning, cut your zucchini in half lengthwise. It's a good idea to chop the stem off first. And you'll probably want to wash it, too, if you haven't already. Do that before you cut anything.

Scoop out the seeds and tough stuff in the middle (toss them into the compost) then bake the squash face down for 5-10 minutes in the oven or 5 mins in the microwave to soften it up. This also helps release a lot of the liquid zucchini are notorious for containing.

By this time, the burger should be browned. Drain it then add 8 ounces or so of spaghetti sauce, or tomato sauce and your choice of seasonings. Mix it well and heat it through. If you want to add mushrooms or other softer items, this is a good time for that.

While that's going on, take the softened squash out of the oven and scoop out and save all the meat of the squash except about a quarter inch all the way around. Place the shells in a deep, prepared baking dish and set aside. Sometimes I cut mine into lengths for individual portions - especially if they won't fit into the baking dish otherwise.

Cut up the remaining squash bits and add as much as you like (some, all or none) to the meat mixture and heat through. I just add bits of squash until the pan is threatening to overflow.

Scoop the meat mixture into the waiting shells - fill them up as much as you like. It's OK if they over-flow, or you may choose to keep them individual. Either way is fine.

Cover and bake for about 45 mins. (If the baking dish has no cover or the cover won't fit, use tin foil.)

After 45 mins, remove the cover and liberally sprinkle mozzerella cheese over the top. Continue baking until the cheese is melted to your satisfaction. I like it when it gets good and browned!

While that's happening, toss together a salad and warm up some bread. It's basically a one dish meal! (But I will say that some additional greens are quite tasty as a side dish.)


---
Sautéed Summer Squash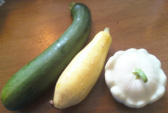 This is one of our favorite way to cook summer squash, (and it works pretty well with frozen squash, too!) Use any variety of summer squash or zucchini. We like to mix varieties when we have them.

Wash the squash and cut off the stem and flower ends. Slice the squash into bite sized pieces.

Slice an onion or two (to taste) similarly.

Sauté on medium-medium high in butter (please don't ruin your wonderful fresh squash with that plastic substitute that commonly comes in tubs) and your choice of herbs and/or seasonings. We use garlic, a dash of seasoning salt, chives, rosemary, basil, whatever!

Cook until desired doneness - some like it a little more cooked than others.

By the way, this is our absolute favorite way to prepare frozen summer squash on a cold, snowy winter day!


---
Zucchini-Cannellini Toss

This one came to us from an anonymous Ohio CSA friend.


2 lbs. zucchini, cut into 2 1/2" strips
1 tbs. extra virgin olive oil
1 large garlic clove, minced
2 tbs. dry white wine
2 15.5 oz. can cannellini beans drained
1/4 tsp. salt
1/8 tsp. pepper
1/2 cup thinly sliced fresh basil
2 tbs. chopped fresh oregano
3 cups hot cooked couscous, cooked without salt or fat
1/4 cup (1 oz.) finely shredded fresh parmesan cheese

Saute zucchini in 1 tbs. olive oil for 4 minutes
Add garlic and saute 1 minute
Add wine and cook 2 minutes
Add beans and cook 4 minutes or until thoroughly heated
Remove from heat
Stir in basil and oregano
Serve over couscous and sprinkle with cheese

(submitted by MCF website member IamNiecy)