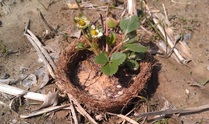 In my last blog post, the first week of February, over two months ago, I committed to trying to post a blog at least once a month. Oh, well. I did say "trying" and, in my defense, I have started several draft blogs and never completed them. AND I did post an entire page in the Kitchen section on how to corn your own beef last month. After St Patrick's Day, but, still. I blame it on life. There just always seems to be something more important or more entertaining or just plain distracting that gets in my way. Sigh.


Anyway, it's high time I sent out an update on the farm. Winter is over. Wait, no, it's here again, oops, here's summer, no, winter, ok a touch of autumn ... You get the point. This spring has been in no way shape or form anything like last spring, but that's what life is like on the farm. Unpredictable. For people like me who like to know just what to expect all the time, it can get a little disconcerting.


Today, Earth Day, is a gorgeous spring day on the farm. I have posted a few photos above - some of them I just took this afternoon. The strawberries Jim planted last month are growing, peas are starting to climb their trellises, radishes are finally saying it's warm enough to ease up from their beds (they're still shy and wouldn't take a pic), and all the sets in the greenhouse are impatiently waiting for the ground and air to be warm enough to plant. And did I mention kittens? We have, at last count, 8 new kittens on the place. 8 more than we need, I might add. (Maggie disagrees.) They are very cute. Did I say "Free"?


We also have a plethora of new poultry growing in various tubs, tanks, and cages, waiting to be big enough to let loose with less risk of being eaten by someone other than us. Too bad kittens can't combat hawks, owls, possums, raccoons, and coyotes in anything other than cuteness. We have almost two dozen goslings and the same in turkey poults and, if everything works out well, there will be a nice selection for holiday meals this fall. There are also several nice chickens coming along out in the clover patch where they get their fill of chickenly yumminess.


And, as always, we have lots of pork. Specials are still available Just for an idea of space needed, 10 lbs of pork will fit in a plastic grocery bag.


Glenn just came strolling in with a few of his friends - honeybees! It sure is great to have them around, but in the house? Not so much. YIKES!


I know there's more to say - please plague me with your questions. It will give me a real good excuse ... er ... reason to hit the blog.


Eat seasonally!