Corn Your Own Beef!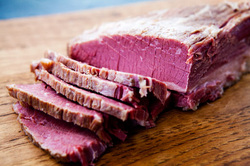 Image from simplyrecipes.com
A few years ago, we were asked by a friend who loved our home cured ham if there was a way to make beef ham. Yes. It's called corned-beef. Same process, basically the same recipe.
In our house, we eat Corned-Beef generally once a year ... on St. Patrick's Day. Of course, we make enough that it usually lasts several days. I don't know why we limit it this way because it's easy to do and pretty darned tasty. But traditions are hard to break.
The steps are simple but there are a few of them and don't count on having your corned beef ready for supper tonight if you're just starting now. It's going to take a few days.
We use the book, Charcuterie, by Michael Ruhlman & Brian Polcyn, for many of our home processing recipes. You can actually skip my instructions below and go straight to
his website
and follow his directions if you'd like.
First, let's get your ingredients and supplies together.
1. You'll need a good container in which to soak your meat in brine. We have a 5-gallon bucket with lid that we got from a local store just for brining larger hunks of meat, but you can use something smaller, too. Just so it's big enough for the meat to be submerged in the brine. Your best bet is to use plastic or glass for brining, not metal as some kinds of metal corrode in the brine. If you have to use metal, don't use aluminum.
I have a glass mixing bowl that came with my mixer that's perfect for a cut of brisket.
2. You'll also need something to place on top of the meat to keep it submerged. We use a stoneware plate that's barely smaller than the container. Then be sure to cover the whole works either with a well-fitting lid or plastic wrap. Whatever you use needs to seal well.
3. Pickling spices. You can purchase pickling spices in the spices section of the grocery store or you can make your own. My bias toward making my own: in the long run it's cheaper and I know exactly what's going in it. The container at the store invariably simply lists "spices" as the ingredients. As if that's helpful. Below is a recipe for homemade pickling spice.
4. A spice bag. I use a tea-leaf ball or an old knee-high stocking but a chunk of cheese cloth works, too.
5. A chunk of beef. The recipe calls for 5 lbs but you can certainly alter it to suit your needs. Traditionally, corned beef is made with brisket but any hunk of beef, such as a roast, will work about as well.
6. Salt. The recipe calls for Kosher salt, but any non-iodized salt (sea salt, pickling salt) will do. The iodine in table salt will get in the way of the process. It's the interaction between the sugar and coarse salt that penetrates the brine throughout the meat.
7. Pink Salt. I saved this one for last in the list because it's somewhat controversial and there are as many opinions about it as any other controversial topic. Not really salt at all, pink salt (also called Prague #1 Cure or InstaCure #1) is what kills the bacteria that could end up giving you salmonella and what gives the meat that pinkish color associated with cured meats. It's sodium nitrate dyed pink and there are folks who take exception to that for a variety of reasons. We use it. There's 5 teaspoons in some 5 gallons of liquid, not that much really, and we like that pink color. But if you don't want to use it or can't find it and you're ok with gray meat when it's done (there won't be any noticeable impact on the flavor), you can leave it out in this kind of curing.
If you do choose to use pink salt, you may have a tricky time finding it locally. We ordered ours from sausagemaker.com. You might try hunting type sections of stores. Sometimes there will be meat curing ingredients there. Be careful, though, it's not the same as ProCure or Himalayan Pink Salt.
---
Homemade Pickling Spice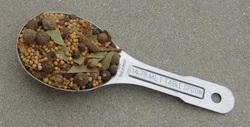 Image from happierthanapiginmud.com
So here's the recipe for home-made pickling spice. It will make about a half-cup and can be used to brine just about anything: beef, pork, chicken, pickles, small children ... just kidding.
This recipe comes from
Charcuterie
, by Michael Ruhlman & Brian Polcyn. If you're planning on doing a lot of home-made meat processing, it's a must have. See our
bookshelf
for more.
Again, this will make about 1/2 Cup of spice mix. This will be about right for a brisket or other similar sized hunk of beef you want to corn. Or a small ham.
1 T whole black peppercorns
1 T mustard seeds
1 T coriander seeds
(Before you proceed, lightly toast these three ingredients in a small dry pan and crack them with the edge of a knife or lightly with a mortar & pestle.)
1 T hot pepper flakes
1 T allspice berries
1 T whole cloves
1/2 T ground ginger
(1/2 T = 1.5 t)
1/2 T ground mace
1 small cinnamon stick, crushed or broken in pieces
12 bay leaves, crumbled
You may choose to alter these spices to suit your own tastes. For instance,
we found that this much red pepper made the finished product a bit spicier than our taste so will reduce it next time. Other people leave out the coriander or add a bit of celery seed. Others use completely different amounts.
Combine the ingredients and store in a tightly sealed plastic or glass container.
---
Corned Beef Brine
Image from ruhlman.com
"Making your own corned beef is especially satisfying because it's so easy - and so inexpensive compared to commercial corned beef." -
Charcuterie
This recipe comes from
Charcuterie
, by Michael Ruhlman & Brian Polcyn. If you're planning on doing a lot of home-made meat processing, it's a must have. See our
bookshelf
for more.
1 Gallon water
2 C kosher salt
1/2 C sugar
1 oz (5 t) pink salt (see more on this below)
3 garlic cloves, minced
2 T Pickling Spice (see above)
1 5lb well marbled beef brisket
Combine all ingredients in a pot large enough to hold the brisket comfortably. Bring to a simmer, stirring until the salt and sugar are dissolved. Remove the pot from heat and allow to cool to room temperature, then refrigerate the brine until it's completely chilled.
Place the brisket in the brine and weigh it down with a plate to keep it submerged (see above for more on this).
Refrigerate for 5 days
.
After 5 days, remove the brisket from the brine and rinse it thoroughly under cool running water. (Resting is not required here because the distribution of the brine will continue in the long, slow cooking process.) Now you're ready to make your meal!
---
St Patrick's Day Corned Beef and Cabbage Dinner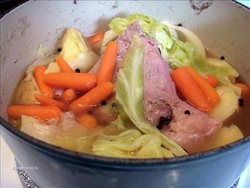 Image from food.com
I prefer to call it Corned Beef and Cabbage even when it's accompanied by potatoes, onions, and carrots, a dish commonly referred to by the inelegant and arguably unappetizing moniker of New England Boiled Dinner.


I cook mine like a pot roast, really. The amount of side vegetables is entirely up to individual preference. You'll need:


Your nicely corned and rinsed beef
2 T pickling spice in a spice bag or other appropriate strainer
A few carrots, cut into whatever size you like - I do mine in fairly good size chunks
An onion or two, quartered
2 or 3 potatoes, peeled and quartered (or more if you like)
1 smallish head of cabbage, quartered
Some people also like to use all manner of other root vegetables such as beets, parsnips, turnips, and/or rutabagas. Personally, I'd cook the beets separately, but the others can go in with the potatoes.

Put your corned beef into your roast pot, add spice bag, carrots and onion.
Pour enough water over the top to just cover everything. Bring to a boil, then reduce to a simmer, cover, and let cook until the meat is fork tender, about 3 hours or so.


Add potatoes and cook another half hour or until the potatoes, then add the cabbage and cook until you can stick a fork easily into the potatoes.


Remove the meat and veggies from the liquid. If you like, reserve some of the liquid to pour over your meal.
---