Mulberry Creek CSA Kitchen Bookshelf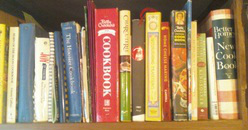 This page lists a variety of books on our shelves that relate to eating. Some of them we rely on and believe should be on the shelf of anyone interested in the relevant topic, some are great books but not necessarily "must-haves", and others are just plain fun to have around. If you have a favorite book you think we should add, please drop us a line. See the sub-tab on
Food Preservation
.
Check out our Library for non-kitchen specific topics.
By the way, books aren't listed in any particular order - just by which one I grabbed first.
I must say here that we don't follow the current politically correct nutritional guidelines because we think they're a bunch of malarky created as marketing campaigns that evolved into nutritional standards. Don't get us started on the nutritional "danger" of bacon and lard, never mind raw milk and refrigeration of eggs. So our cookbook selections may tend toward the non-traditional. But, then again, they may not!
Really, "must haves" is a matter of personal preference. I know what I like to cook and go to those cookbooks respectively. I have found that your basic, standard cookbook classics are great sources for good food. Just avoid recipes that contain the words "package" or "can" in them as much as possible. For the curious, however, we use
The Joy of Cooking
,
Better Homes and Gardens Cookbook
, and
Betty Crocker
the most. In fact, I have a 1950s vintage Betty Crocker cookbook that I adore for some of the old-fashioned recipes that weren't afraid to use butter or lard not to mention the awesome menu suggestions! We also use a few more arcane cookbooks like "
Hoosier Cooking
" and "
Felicity's Cook Book
" from the American Girl collection. The following have found their way onto our cookbookshelf as being particularly helpful to eating locally and sustainably.
---
Animal, Vegetable, Miracle by Barbara Kingsolver


AVM isn't just a political treatise. (In fact, she didn't actually write it to be a political treatise, anyway.) It is also a great cookbook. The book itself is well worth the read, but you don't have to buy the book, though, to take advantage of the recipes. Ms. Kingsolver has very helpfully posted them all in .pdf format on the book's
website
. We haven't tried everything, but we can tell you that the tomato sauce recipe is to die for as is the relish/chutney/sweet & sour sauce. But both those should be listed down under "Food Preservation" as they are canning jobs.
---
Nourishing Traditions: The Cookbook that Challenges Politically Correct Nutrition and the Diet Dictocrats by Sally Fallon


This book is an excellent resource. The title alone ought to interest people interested in eating something that is actually food and not a collection of various chemicals. In addition to some fabulous recipes (including one for "Maggie's Potato Salad"), there is a plethora of information on diet, various ingredients, and food cultures. A great read even if you don't cook. And if you do, this is a great source for recipes you won't find in "standards" - lamb, organ meats, stuff like that. Good stuff. The link will take you to the Weston Price Foundation, publisher of the book.


---
Recipes from a Kitchen Garden by Renee Shepherd & Fran Raboff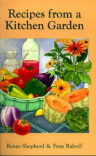 This is a nifty little book that "will inspire you with almost three hundred different recipes..., featuring a great variety of vegetables, aromatic herbs, and edible flowers organized alphabetically by type."

There is a sequel, "More Recipes from a Kitchen Garden", that promises to be as fun as this. Her website is a trove of goodies, too.


---
Milk: The Surprising Story of Milk Through the Ages by Anne Mendelson


This is, in fact, mostly a cookbook for an amazing array of dairy products including using milk from animals you might find difficult to find in the local chain grocery store, like water buffalo. (But the recipes are pretty much written for cows milk.) And the section on the history of milk really goes a long way to explain why we find what we do on our grocery store shelves today and why most Americans have such a hard time letting go of ideas foisted off on us by clever marketing campaigns (like "animal fat is bad for you" and "raw milk will give you a disease" and "if you have eggs that have sat on the counter for more than 5 minutes you'll most certainly die"). It tends to be a teensy bit scientific at times, but it's well worth slogging through those sentences. The link will take you to the Real Milk Campaign website which is only connected to this book or author by subject.


---
Free for the Eating and More Free for the Eating by Bradford Angier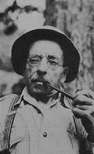 These books are both out of print (however several of his other books are available) and are for the hard-core locavore. Our copies belonged to my dad who studied environmental education in the 60s and fed us all kinds of weird stuff he picked up in the woods. I'm working on a compilation of the recipes and cooking tips from these two books that I'll post on the recipe page at some point, but if you stumble across either of these in a used book store, snap them up. The language alone is fun to read! These books are from the same era as Euell Gibbons'
Stalking the Wild Asparagus
, which is still available in reprint (although, sadly, we don't have any of his books. Yet.)
There are a few websites offering up edible wild plant identification, all coming with the warning to eat wild plants with extreme caution because some edibles have toxic look-alikes. Just be sure.
This page
, in spite of the website title, is pretty good and includes helpful photos.
---
Hoosier Cookbook and More Hoosier Cooking by Elaine Lumbra


These are both out print but can be found at Amazon. These are Glenn's favorite cookbooks and where he heads first when looking for something "Mom used to make" (like Crazy Crust Cobbler and 30-Minute Pickles, among others). Some of the recipes are just fun to read! The arrangement is impossible to follow and the index makes little sense, but if you're persistent, you can usually find that for which you search.

The link will take you to Indiana Foodways Alliance.


---