Dandelion Greens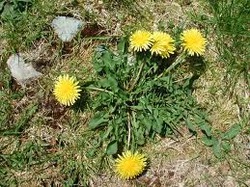 (Disclaimer: information from "
Free for the Eating
")
Gathering wild greens is happy way to sharpen a satisfactory hunger, even if you go no farther than to collect a bagful of common dandelions. Actually this familiar vegetable, all too well known because of the way it dots many a lawn, is among the best of the wild greens.The well-known dandelion of flower beds, lawns, pastures, meadows, roadsides, and other moist, open places, boasts some three species in this country and about twenty-five in the civilized world over which it is widespread. The green leaves are long and narrow, spreading in a rosette at the bottom. Their coarse edges, irregularly lobed and toothed, give this wild edible it's name, which means "lion's tooth".The flowers are yellow, maturing to full white ovals of plume-tailed seeds that later scatter in the wind to make dandelions plentiful and persistent. The hollow and leafless flower stems discharge a bitterish milky juice when bruised or severed, as do the roots when the greens are cut free. These roots are generally thick and deep. Such wildlife as mule and white-tailed deer relish the green foliage, while grouse and pheasant find the seeds delectable.
---
Dandelion Salad
The tender young leaves, available in the early spring, are among the first wild edibles I gather while bear hunting, trout fishing, or just plain hiking or horseback riding through the greening wilderness. At first they are excellent in salads.
Add dandelion greens to your regular salad lettuce or make a salad just of the greens. For more clever ideas, just Google on dandelion salad. You'll be amazed.
Be sure to wash all greens thoroughly with a
vegetable spray
, especially if they come from a high-traffic area.
Cooked Dandelion Greens
Yep. Just like any other green (except lettuce) these can be prepared by boiling them gently for a few minutes with a bit of salt to remove any bitterness.


Later, when the plants begin blossoming, they develop a toughness and bitterness. Changing the first boiling water into which they are crammed will remove much of this bitter taste if you want, but we find it clean and zestful. Incidentally, when you can, include as many buds as possible, as they liven both the color and the flavor.
Dandelion Scrambled Eggs
Young, tender dandelion greens can be used to add character and vitamins to scrambled eggs.

Ingredients:
4 Eggs
4 T cold water
salt & pepper to taste
1 C shredded dandelions
2 T butter or bacon grease

Mix eggs and cold water, add salt and pepper to taste.
Add the shredded dandelions.
Heat butter/grease in a frypan just hot enough to sizzle a drop of water.
Pour in the egg and dandelion mixture and reduce the heat.
When the eggs have started to harden, begin stirring them constantly with a fork.
Remove them while they're still soft and creamy.
Dandelion Roots
Although they contain a laxative, taraxacum, the roots, when young, are often peeled and sliced, like carrots or parsnips, for boiling as a vegetable. To remove the characteristic tinge of bitterness you may choose to change the salted water once. Serve with melting butter. Being particularly nourishing, these roots are a famous emergency food, having saved people from starving during famines.
Dandelion Coffee
Although the woods afford a multitude of teas, they are short on coffees. The dandelion will provide one of these latter. Roast the roots slowly in an open oven all afternoon until, shriveling they resemble miniature dragons and will snap crisply when broken, revealing insides as brown as coffee beans.

Grind these roots and keep tightly covered for use either as regular coffee or for mixing to extend your normal supplies. Dandelion roots may be used the year round for this purpose. Because I generally roast my grind shortly before freeze-up in the fall when the roots are near their strongest, I find I only have to use a level tablespoon of this homemade mixture per cup, whereas I prefer a heaping tablespoon of store coffee.

OK, I have no idea what this tastes like. My bet is: not like coffee. And I'm sure the caffeine content (the only reason for drinking coffee, let's face it) is less than present. But it's an alternative if one desires one.
Dandelion Wine
Dandelion wine is famous. If you'd like to make your own, pick a gallon of the flowers early on a dry morning, making sure that no parts of the bitterish stems are included.
Press these into a 2-gallon crock.

Pour a gallon of boiling water over them and leave for 3 days.

Then strain through a cloth, squeezing all the liquid from the blossoms.

Add the juice and the thinly sliced rind and pulp from 3 oranges and 3 lemons.

Stir in 3 lbs sugar.

Add 1 oz yeast.

Cover the crock with a cloth and let it stand, out of the way, for 3 weeks while the mixture ferments.

Then strain, bottle, and cork or cap tightly.