Early Season Ideas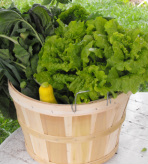 There's so much you can do with any and all of this produce! With this week's share, try tossing some snow peas and summer squash chunks in with your salad. Or add snow peas, summer squash, and turnip chunks to your favorite stir fry.

The following was published in the Farm2Fork Fresh newsletter at Dorothy Lane Market, summer 2009:

* Toss the salad greens with the lightest drizzle of olive oil, minced garlic, lemon juice, and a dash of sherry vinegar. You won't need a powerful dressing with greens as fresh and flavor-packed as these!

* If you've never had turnip or mustard greens, they can be used any way you use spinach - cooked or fresh in a salad. They are a marvelous source of vitamins and quite yummy!

* Ever tried a radish sandwich? Simplest early-summer sandwich ever: just mince some radishes, sprinkle with salt and pepper, add a few chopped sprigs of parsley, and place on bread smeared with your favorite butter. (European butters are nice and light for this, but Amish butter, which luckily is widely available throughout Ohio, is especially great!)

---
Cooking with Snow Peas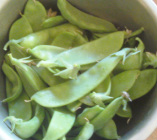 I've never liked peas. "Loathed" would be a word appropriately applied with one exception: fresh straight-out-of-the-pod-still-standing-in-the-garden peas aren't bad. But those usedtobe-peas that come in cans and soup... BLECH! What on earth were they thinking?
Peas (and here I refer to Garden Peas, the kind that have to be shelled) are just, well, with sensitivity to those who like them, not my favorites. So imagine my delight when, many years ago, I discovered the delights of snow peas. Yum! They're so awesome! (And they freeze wonderfully.) Then a couple years ago I was introduced to sugar snap peas (the ones with edible pods), and I became a pea lover. But more on them another time.
Snow peas, the flat ones, are eaten whole. They are delicious fresh, in a salad, steamed, or stir-fried. They're also a great sugar pea for freezing for later use. To find out how, check out the article on
preserving
.
For a recipe for
Lemon Butter Snow Peas
:
http://allrecipes.com/Recipe/Lemon-Butter-Snow-Peas/Detail.aspx
---