Rinsing Vegetables to be Critter Free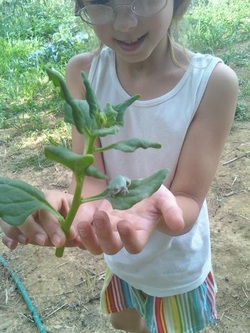 Did you check out the pic? Can you say, "Awwwww!"

Now. Can you say, "Frog pee!"

A little pointed, perhaps, but this is to say that YOU. Need. To. Wash. Your. Veggies. I don't care where you got them. Never mind potential tree frog pee, produce that grows outside in the actual air and rain may contain what we like to call "free protein" (cute little worms or bugs or even itty bitty bug eggs) and is likely to come into contact with all sorts of animal and bird deposited "foreign matter" (ever seen that on the ingredients list and wondered what it was? Don't you wish I hadn't told you?). And even in the most sterile greenhouse environment (where a lot of the "organic all natural vine ripened" produce in the store and even Farmer's Market comes from) guess what? Someone has to pick your produce and they may well have picked their nose first. I know - ew. But there it is. Do you want to take that chance? I don't. So here's what you should do FIRST.

Fill a bowl, the sink, your choice of container with cool/lukewarm (not cold, not hot) water, add a couple teaspoonsful to a quarter cup of salt. Use your discretion – the more buggy something may be, the more salt you may want to use. I generally just dump a bunch in, myself.

Soak your vegetables for 5-10 minutes then rinse well under running water. With veggies with lots of nooks and crannies, such as broccoli, swish them well after they soak and before you rinse them to help evict those critters.

For an extra special superdeeduper wash, use the recipe below.

Now prepare your vegetables as you choose.


---
Vegetable Recipes

This section contains some recipes and resources for featuring your fresh, locally and sustainably grown veggies! We're dividing it by vegetable types. You can browse through, or try using the search engine on the Front Porch.

Not sure what you have? Check out our "

What Is It?

" page in the Garden.

---
Stir Fry
I've always assumed that everyone knows how to stir-fry but that's certainly not true! Tip: Read this whole thing before you start because it's totally non-linear.
Here's a nice site with simple tips to make your stir-fry exceptional.
Gather your ingredients and have them pre-diced or sliced or cut into smallish bits. Keep everything a fairly similar size. Pretend you're one of those over-organized TV chefs. I don't recommend you slip your empty bowls into the spaces under your counter, though.
While you're finishing up your veggies, gently pre-heat your wok, add a bit of oil (use a high-temperature oil like peanut or sunflower; olive oil doesn't do well), toss in some pressed garlic, maybe a bit of sliced onion, a few herbs, even some soy sauce or whatever other seasonings you might like. Yes, a skillet will work, too, if you don't have a wok. And don't forget to start your rice or couscous or quinoa or whatever so it's done in time. (We often have couscous because no one remembered to start the rice.)
Meat of your choice cut into thin bite-size strips (chicken, lamb, beef, pork, shrimp, you pick) I've even been known to cut up leftover steak or chicken for a stir-fry.
Veggies of your choice - whatever's in season or you can grab from the freezer. I generally use broccoli, cauliflower, summer squash, sometimes a bit of celery, some water chestnuts or kohlrabi, carrots, whatever. Like I said, whatever's in season. If you're just a bit industrious during the growing season,
freeze some
for use in the winter for that fresh summertime taste.
When you have everything ready to go and your wok or skillet is heated, start by adding a handful or so of the meat at a time. Stir it constantly and keep it turning. As one batch of meat browns, add another handful. If you have a wok, pull the browned meat up the sides out of the oil or use that nifty little rack that hangs on the side. That will keep the meat from being overcooked while keeping it warm and exposed to the yummy flavors still cooking. If you're using a skillet, remove the meat once it's browned and set it in nearby container.
Once your meat is all thoroughly cooked and out of the oil, start your veggies. One method is to open the bag of frozen veggies and dump them all in at once. If you choose to use fresh veggies, though, or don't want your tender veggies mushy, start with denser items (like carrots) that take longer to cook and finish with soft things (like mushrooms) that just need to be warmed. Once the denser veggies are about halfway done, add the meat back in.
Keep stirring until everything is cooked through and serve.