The Mysterious Kohlrabi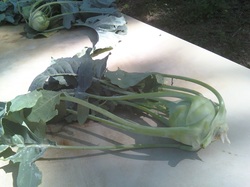 It is not at all uncommon for someone to ask "What is it?!?" when they get their share and see one of these marvelous creations peeking out. It may look like something from a science fiction cartoon, but kohlrabi is a quite tasty and versatile veggie.
Kohlrabi is in the same family as cabbage (and Brussels sprouts, broccoli, and kale - did you even know they were related?) so the flavor is complimentary.
Below are a variety of tips. Also, search your favorite recipe site to see what you can find. Check out this great article from Huffington Post.
---
Kohlrabi Greens
The greens can be prepared as a substitute for or in addition to other
greens
. We like to mix up our greens in the pot for a "cooked salad" kind of experience.
Kohlrabi Slaw
Really, just take your favorite coleslaw recipe and substitute the kohlrabi for all or part of the cabbage. That's it. If you're used to slicing your cabbage with a knife, try using a grater.
Kohlrabi in Stir Fry
Kohlrabi is an excellent addition to stir fry (with or without meat). It can be used in addition to or as a substitute for water chestnuts as it has a similar crunchiness. The flavor is quite different, though.
Click
here
for our Mulberry Creek Non-Linear Stir Fry Recipe.